Hello
@punker barbie
,
I am writing to you here to tell you the following sad story; I worked in a studio with the im_cristal account until Friday, May 12, 2023, when I informed the owners that I was not continuing in the studio for personal reasons and at the same time I asked them to cancel my documents and that account that was created with them. but on May 17, 2023 I proceeded to open my new account to start the process of creating an account with chaturbate and I am surprised that they banned me for a show prohibited by policy. After realizing what happened, I checked my login history on someone else's account and it looks like I logged in that day, which is kind of impossible because I've been offline for several days and the person who logged in wasn't me, for Please can you verify that the person who was transmitting was not me? because at no time did he show his face, being a study account for me it is impossible to control the people who enter that account because they have free access to my account.
To date I have sent several emails to chaturbate support to study my case but I have not received a response from them, I appreciate your interaction as platform administrator to achieve a prompt response and that my account can be unbanned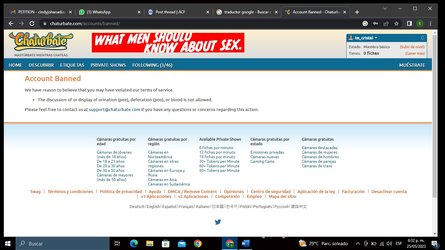 and completely eliminate my documents from there so I can create a new account and start working with chaturbate with my documents independently. Thanks you so much.