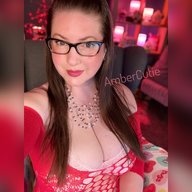 ACF Owner & Admin. (I don't work for CB.)
Staff member
Cam Model
Mar 1, 2010
23,589
104,318
0
Twitter Username
MFC Username
It's that time again for Awesome August! Lots of AmberLand hours, new content, games and competitions to win goodies, and some fun times are ahead of us! This mega month is even more special than most because it represents 5 full years since I officially became a cam girl.
As per usual mega months, I will be aiming for the best Miss MFC rank possible! Every single token helps the end-goal, and I appreciate everyone pushing for a spectacular month with whatever they're able to contribute. For those who go above and beyond, I look forward to thanking you with endless extra appreciation and goodies!
Schedule:
It will be nice to finally be back to full time after all the craziness of the past 2 months! I am hoping to have enough stamina (and in-room entertainment and motivation) to be on between 4-5 hours each day (approx 4pm-9pm or 5-10pm), Monday through Friday evenings. I may pop on for a weekday morning shift now and again, too! Saturdays may be closer to 3 hours and either afternoon or night shifts. Sundays might be a day I take off, maybe every other Sunday. We'll have to see how things are going! If we are maintaining a super-kick-ass rank in Miss MFC, that really motivates me to just keep on trucking and not take more than a day off all month.
August 1st
I plan to be on a long time and start the month off with a BANG!! Let's aim for 1pm to 9pm Pacific, with a snack break or 2.
August 28th
is the exact 5 year anniversary of my first MFC broadcast! I want to have a 6-8 hour shift that day. It's a very special day for me so please try your best to be there to celebrate with me! I'll bring the beverages if you bring the cake.
ccasion6:
ccasion9:
ccasion7:
ccasion1:
August 31st
I may very well do a long shift from around 5/6pm til midnight,
depending on how the month has gone
. If we are run ragged and need some rest, we'll have a normal evening shift. If we are pumped up and running high in the Miss MFC ranks, we'll go for the gold, baby! We'll see how it plays out!
Special shows/events:
As has been mentioned a few times, I considered calling this mega month "All Anal Awesome August Extravaganza!" but it's a bit of a mouthful and might be too misleading. :mrgreen: I am planning to do a special show, once each week, involving some sort of Anal play. Fingering, butt plugs, DP... you'll just have to keep up with me to see what may be coming up that week.
Possible events throughout the month - panty wetting and raffle for the panties, cookie bake show (high tippers winning cookies), bubble bath show, shower shows, milky cream shower show, naughty horny dress day, mirror riding, AmPole (with or without anal...) and whatever else we think of!
New Content:
444 tokens for the bundle, or individually priced as shown! Bundle deal is only good for this month.
Hand Decorated Frames Raffle:
I started learning how to decoupage! Here are the first 2 items I made - hand decorated Washington themed picture frames. They also have a space on the back where I'll include a personalized note, and of course I'll put an exclusive printed photo in each. The raffle will run from August 1st through August 10th and 2 winners will be pulled on the 11th. Tickets are 35 tokens each.
Top Cootie Killers of the Month:
#1 wins the exclusive title of "Top Cootie Killer" for the month.
#1 - #3 get a collector's edition Seattle themed Cootie plush!*
#1 - #10 get a short HD naughty video clip.
Here are the super-adorable Cootie Plushes I made for the winners!
*If you are unable to received mailed prizes, or would rather opt out, you may gift your collector's edition Cootie Plush to another worthy AmberLander. Please make sure they're willing and able to accept mailed prizes.
Space Hero Bake Sale!:
Support your favorite AmberLand Space Hero by buying and feeding them a cupcake for the 5 year celebration month!
Tip 96 tokens (exactly or exact multiple of*) to feed Space Tank a cupcake!
Tip 97 tokens (exactly or exact multiple of*) to feed Space Lance a cupcake!
Tip 98 tokens (exactly or exact multiple of*) to feed Space AmBear a cupcake! (A new Space Hero appears!)
Tip 99 tokens (exactly or exact multiple of*) to feed Space Sloth a cupcake!
Each cupcake on their section of the wall will count as a raffle ticket for that hero's team. One team will be pulled as the Mega Space Fatty, and everyone on that team wins an HD desktop wallpaper photo! A second team will be pulled as the Minor Space Fatty, and 10 people on that team will be pulled from a raffle (tickets based on how many cupcakes they bought) to win an exclusive pic set! Your chances of a prize are highest by being on every team.
*Example - a tip of 490 tokens is 5 x 98 = 5 Tank Cupcakes. It's helpful if you add a tip note indicating your multi-cupcake intentions, but I will have an automatic cupcake tracker in my stats so I can update the wall daily as well as keep track of who is on which team(s).

Let's fill this wall up with cupcakes!!
Amber's August Angels:
There are 2 ways to be an ultimate daily hero for Awesome August!
The person who has the day's highest
accumulated
tokens (ALL TOKENS (tips, offline tips, raffle tips, countdown tips)) each day, as well as the person who has the day's highest
single tip
(a grand tip, all in one shot) will be that day's
Angels
. You'll get your name on my wall of Angels as well as a raffle ticket to win
semi-custom strip and cum video
* in September!
*Options available for a custom video include choosing the outfit, the song(s), and what toys I use to play with myself and cum for you. I'll make the video and get it to you some time in September so long as you let me know ASAP what the content should be!
I will adore all my Angels!
You may notice the prizes for Cootie Killers and raffle have a Seattle/Washington theme. Since I just made this huge move, I thought it would be fun to incorporate it into the month! I hope that you'll stop by sometime (or lots of times!) during Awesome August to celebrate my 5 years of MFC as well as my move with me! Let's make this a month to remember, we have a lot of missed time to catch up on!
See ya there!
live.ambercutie.com
is the easiest way there! xoxo