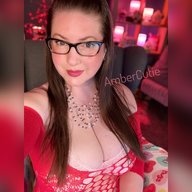 ACF Owner & Admin. (I don't work for CB.)
Staff member
Cam Model
Mar 1, 2010
23,774
104,913
0
Twitter Username
MFC Username
...Thinking back to August of 2009... taking avatar photos and coming up with crafty things to write on my first cam site profile. Nervous, naive to the ways of the adult world and completely unsuspecting how quickly I'd get wrapped up in all of it...
Here we are 7 years later. I can't believe all that I've accomplished and am so proud of my successes as well as all I've learned from my failures. I'm in awe of all the wonderful people I have met in the community throughout the years.
So let's celebrate!
#AwesomeAugust begins in just a short few days. We are striving to get AmberLand in the top 50 Miss MFC, or at least have a fantastic time trying. Below are my plans to make it an epic mega month!
New Videos:
Previews will be posted soon!
August Bundle - 500 tokens - Only available during August - 3 videos (Clear Chair Dildo Ride, Strip Dance, Blue Cum Time)
Smack my Butt - 150 tokens - Available any time after August 1!
Schedule:
Aiming to be on most days of the month. I'll try to take a full day off each week, but I know in order to hit rank goals, I've gotta be on cam!

August 1st
I will be on probably around 4 hours in the evening time and would LOVE if we could sneak into the
top 20
that night! Let's see what we can do!
I'll also be doing a
cammathon on August 2
from roughly 1pm til 9pm to help hold any rank we get the night before.
I will be on most Caturdays and even some Sundays for weekend fun. Sunday
August 28th
we'll have my cammiversary party in the evening.
Shows and activities:
To do something a tad differently, I'm planning to only do
hardcore/cum shows 1x each week in a group show
. This means throughout the other days, we'll do topless/naked countdowns, then keep things on the lighter sexy and fun side! There will be an
ANAL GROUP
toward month's end.
I'll also do a
non-nude teasy day 1x each week.
I've made a
tip menu
that will be available once the naked countdown is done most days.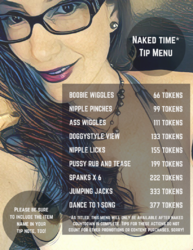 There will be a
Silly Activities Box
- a single tip of 1,111 will pull a random mystery item from said box, and we'll laugh and cringe at whatever silly show results from it. (
Example: there may be a Neti pot or Gizmodance appearance...
)
Among other fun happenings, I plan on doing lubey boobies, body painting, Marker Monday, oily fun, and a baking show at some point through the month.
Special events and prizes:
Starting on August 1 and through the 9th, Lucky Duckies will be on sale! See graphic for details.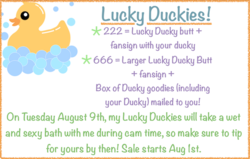 The theme for the month is Lucky 7s, so appropriately the wall will be covered in names of people who tip as follows! (Yes I realize how insane it gets at the end there...)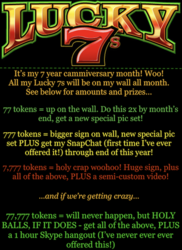 As my usual note goes, "semi-custom video" means you choose whether it's a sexy or silly dance, cum session, masturbation or teasy video, plus my attire/toys for the vid, and it's exclusive to you!
The
HTOTM
(High Tip Of The Month) will win a semi-custom video, as well as a special care package sent with personalized goodies, and hand written note, AND some special polaroid (Instax) photos!
Top 10 Cootie Killers
will get a special, previously unreleased, shower video clip.
The Daily HT
(High Tip) will get a Twitter vid shout out, and some days there may be special additional prizes, so keep an eye out!
That's a lot to take in, but I wanted to make sure that those who go a little above and beyond get some fantastical goodies as a result!
2016 has been quite a year so far, lots going on, and I haven't been around on cam as much as I wanted to and we are used to. I really hope that all the fun times we have in #AwesomeAugust helps make up for it, and that everyone will drop in and have a blast whenever they're able to! Your support means the world to me in whatever form it comes in. While tokens are what push the rank
up up and away
, it's all of your motivating words, entertaining stories, inside jokes and your company that push ME forward, so bring it!