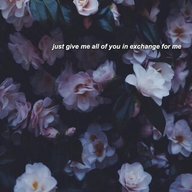 Mar 16, 2021
2
0
0
Chaturbate Username
Hey friends, Hey
@punker barbie
, Hey Support,
u/JakyCola
(NO "C" in Jacky!)
ticket-ID: #17186721
(support not answering)
-Registered aprox. a year ago, frequently used
Decided to start streaming last week:
-Verified with my German ID, had multiple problems (Back side, Face not completely visible next to ID, and a Snapchat filter, this took 3 uploads, just my own stupid-ness)
- After I got the mail "verified", I was able to log in, check on that stuff, and 2 minutes later I was kicked out with message:
We have reason to believe that you may have violated our terms of service.

Please feel free to contact us at

support@chaturbate.com

if you have any questions or concerns regarding this action.
- I didn't even stream with obs/ a cam or mic connected, I was just testing things out, definitely not on a "Production-ready" basis!
Possible causes, from my standpoint
:
-I got blacklisted in relation to multiple (at least 3 I assume) unsuccessful ID-Verifications, and somebody just needs to check on that manually to see that everything is fine.
- I socially identify as NB, and added this to my "HTML-Bio-Info-thingy". Nevertheless, I'm a birth assigned male, which my Bio and my dick states, so I don't think that's a real prob? If so, I'm ok to change that, pls lemme know.
- I started some bots for testing purposes, copied some configurations, maybe there's a problem with that stuff,
-for example,
I just copied a Tip Menu I found on the web
, without actively reading it or overthinking it's contents, but I don't have it locally any more so I can't check on that. (sry)
I also wanna state out that I am a very responsible person when it comes to
reading Terms /conditions. Mainly for IT-Security reasons, but mostly I do actively read that stuff
, especially before send my ID to chaturbate lol.
If I actually did violate Chaturbates terms in ANY form, it's probably the web copied stuff, I'm very very sorry if I made a mistake and would remove it immediately if I could

Thx a lot if anybody can help me!
@punker barbie
I don't know u, but I put my trust in u
Take ur time
much love,
Jacky