Is there any way to switch off the BONGA adverts?
Its annoying rather than troublesome. I get about 3 or 4 per night.. Is there a setting to disable pop up ads??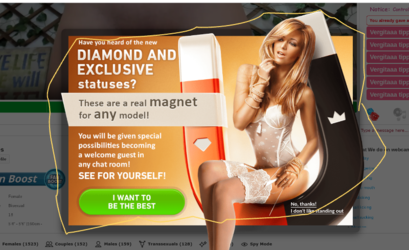 Its also a little bit insulting! I can see what the ad designer is doing. Telling me that "I want to be the best!
And I have to click..
"No I do not want to stand out"
One thing that worries me. Is that yes.. If I am a DIAMOND EXCLUSIVE then I have tokens and money to burn !
I am not sure as a visitor to a room I would want all that attention on my tokens !!
I guess its probably a no to disable the ads. I can just keep clicking
"No thanks.. I dont like to stand out"
RR