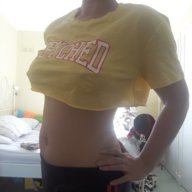 Sep 3, 2017
23
3
1
Twitter Username
Tumblr Username
Streamate Username
Chaturbate Username
Hi guys
i'm just into my third month camming, and it's been going ok. I missed my "new model" status on CB which meant I was really starting from nothing, but it's worked out alright. I have over 1000 followers from working part time and I've been earning just under what I need to ideally survive, but it's been gradually increasing. Just this last week I started camming on SM through Camsharks agency - they've been immensely helpful and supportive and I'm earning way more per minute, though there are more periods of sitting around doing nothing, which I don't like (should say that I've only done 2 shifts on SM and both were on really quiet days, so i don't have enough data yet really to know how much I'll earn). The structure of the site and the way it works is also way less conducive to creativity and whimsy than a social site like chaturbate - but also, minimal freeloaders.
The thing is, I worked hard on CB to get followers and have a small group of people who regularly tip pretty large amounts. I feel genuinely fond of them. I also really kind of like working at CB - but it doesn't make financial sense when you consider the kind of money I could make on SM.
I don't need to be rich, and I'm training as a psychotherapist which is wonderful but draining, so I'm not going to be working 8-12 hour shifts camming. I'm a 4-6 hour girl. At the moment I'm trying to really put the hours in on SM, but I'm not a career cammer really.
So my question is, what is your advice re splitting my time between 2 sites. I don't want to lose everything I worked for on CB, and I do like being there (I guess it is comfortingly familiar) ...but I don't want to start resenting every shitty 12tk per minute pvt I do, knowing if I were on a different site I could be earning $4 per min for the same shit.
Is it feasible to split my time? If so, how would you recommend? Maybe while I have new model status I need to focus on SM and just risk losing support on CB. I'm nervous about not working enough in SM and screwing myself in their rankings... but if SM didn't work out for some reason and I had to go back to CB, I would HATE to have to start from scratch :/

Advice much appreciated!