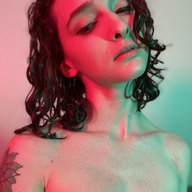 Oct 3, 2018
194
403
48
Twitter Username
Tumblr Username
Streamate Username
Chaturbate Username
Hey guys! I've recently started camming, and it's super fun so far! But there's one issue I don't know how to handle, which is requests to show my feet. I lost the genetic lottery on my feet, and have multiple minor deformities, including hammer toes and bunions. And one of my feet has a pretty gnarly scar from a surgery I got last year. On top of that, I struggle with corns and callouses because of the aforementioned issues. Suffice to say, my feet are not very pretty.
I'm fine with showing my feet for tokens, but I'm not sure if I should warn people before they spend money to see them. I know there's a niche market for bunions, but I'm worried people will be upset (or even grossed out!) if they spend tokens expecting to see pretty feet, and get my mangled hooves instead. But I also feel like launching into an explanation about my gross feet while on cam or on my profile would be a huge turn off to the customers that might not care either way. I could focus on catering to people who
like
bad feet, but that might cause me to lose more customers than I gain. I'm considering maybe just saying feet are a limit on cam, and saving showing them for privates and custom videos. I'm also thinking that catering to people who are really into socks might be a cute way to get around showing my feet.
What would you guys recommend? Any advice is much appreciated