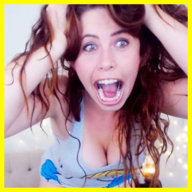 CammodelExpress.com
Cam Model
Industry Representative
Feb 7, 2011
6,866
35,383
293
Twitter Username
Tumblr Username
MFC Username
Clips4Sale URL
Hey guys! I wanted to start a thread that I can post occasional sales, promotions and giveaways for the Profile Builder and anything else exciting we may have going on.
If you're not sure what Cammodel Express is check out our
FAQ
- The Profile Builder is a tool that lets you create your own Myfreecams profile without ANY coding! Cammodel Express is run by myself and
@Moros1138
. If you have any questions we're here to help!
We have a BIG sale coming up on Thursday the 11th of May we're having an A-MAY-ZING one day only sale! We are giving you 50% off any 30 day subscription or 30 day gift voucher purchase of the Profile Builder! Check out the graphic or
click here to learn more
You can also be in to win a FREE month of the profile builder just by retweeting the sale graphic pinned to our twitter account! Members can win also and gift it to their fav model so make sure to tell your followers to Retweet!

Here's the tweet!
That's all for now!