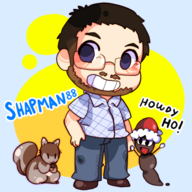 Mar 11, 2015
109
102
73
Chaturbate Username
If you aren't already aware, ManyVids is now offering a platform for camming the same way that Chaturbate does. Here is their release text:
It's Official!
The MV Team is thrilled to present one of our biggest, most ambitious projects yet - introducing MV Live!
That's right MV Stars - starting July 31st, you will be able to start camming whenever you'd like, for as long as you'd like, right here on ManyVids! Just like any cam site, you'll be able to log on when you're ready and have fun in your very own cam room!
Earlier this year, we launched the MV Takeover in which one MV Star at a time had a 3-hour window to do a live show & the feedback was absolutely amazing. We were overjoyed to see so many of you experience fun & successful shows. We have no doubt that MV Live will be an even greater adventure!
We were so happy to share this innovative, new live camming feature with you, that we decided to make camming history - MV Live Beta will offer the highest payout percentage there is until the end of August! Yes - you read that right! MV will be giving back 60% payout (6 cents per token) to all our MV Stars who wish to cam on ManyVids!
MV Live is everything you ever wanted in an interactive cam room. With so many great integrations, you will be able to easily sell your vids, store items, custom vids & more directly from your room! Members will also have the option to send fun animations with their tips, and our goal counter will help you reach goals easily so you can focus on your show!
We are also very excited to announce that we will be giving $10,000 in cash prizes every month to MV Live Top Earners. There will be prizes for all categories of MV Stars (MV Girls, MV Producers, MV Trans & MV Boys) and you will be able to check the current ranks by visiting:
Contests > MV Live Top Earners
And of course, as with any of our new feature launches, we welcome your feedback and suggestions. We promise to make sure we constantly improve and evolve to ensure MV Live becomes the camming platform you've always dreamed of!
We can't wait to see you go LIVE and take advantage of everything our cam rooms have to offer!
It's your time to shine!
- MV Team
https://www.manyvids.com/Article/3754/MV-Live/
​
With them now becoming a direct competitor to Chaturbate by making this move, what is Chaturbate's official stance on allowing links to and promotion of a model's ManyVids page moving forward? I would like to try to clear things up before any confusion and misinformation can arise--because I'm sure we can all agree that it eventually will.

Thanks in advance Shirley !

Just going to tag the necessary people over here... @punker barbie and @roydz