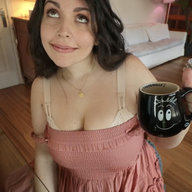 Apr 3, 2015
3,705
12,533
193
29
Twitter Username
MFC Username
Chaturbate Username
Hello everybody and welcome to CHATURBATE'S NEXT TOP MODEL.
I am your host, Mila. Grab some popcorn and lend me your eyeballs, you are in good company. Let's begin.
First things first: if you are reading this I am already dead. Since I have no heir... No, I kid, I kid. There is no testament and I am not dead, on the contrary. I breathe. I am alive. But even though I am alive, I want to pass on a very special gift to one lucky model, the gift is an inheritance in a way since the model will be collecting on all the work I have done in the past 5 years. In the slim chance you don't know who I am: hi! I am Mila. Mila McFly.
My full name is Mila, Queen of Chaturbate, Leader of the Marmy, Mother of Parrots, Friend of Greys, Raider of Models, Emperor of Giggles and President of the People's Banana Republic of Manila.
THE CONTEST
Believe it or not, I have never cammed with another person before. You read that right. The Marmy is eager to see me interact with another human, and frankly, I think it would be a lot of fun too.
Since I love all models it has been really hard for me to pick someone. I figured the best way to do this was through a contest so girls who might be interested in camming with me can apply. This way I open the door to any interested models to contact me to cam together knowing that I am already down for it, and my room and I will have a lot of fun picking the right girl for my first time.
The contest, then, is open to ALL FEMALE MODELS regardless of their longevity, popularity, camsite, or level of success.
It would be a great opportunity for newcomers to the industry, for models who want to switch sites to Chaturbate, for those who are in a rut and want to jumpstart their career, or even fellow top models who want an opportunity for cross promotion and doing something fun with me. I love you all and welcome you all.
Since there will be models applying in all levels of popularity and success, to make sure the contest is fair and everyone has a shot I will make the contest like the Soccer World Cup, contestants will be divided into pairs and will battle it out 1 on 1 each round, then the winners will fight each other until there is only 1 model left: the winner.
I will pick the pairs according to popularity so top models fight each other and more obscure models fight each other also, that way everybody gets a shot
.
The winner gets the big prize which is to come visit me in my city and cam with me during the US time weekend (sat, sun, mon EU). I will cover the cost of the flight ticket and award the winner $150 per night so she can book the hotel of her choice. I will also cover the 4-5 star hotel room for our shows.
We will cam in 3 separate days. If the winner is a top model on any site we will plan a show that blends elements of both of our styles so it wont be a "Mila show" or a "insert-winner show" but a new thing entirely. If the model is a newcomer, a Lush model or a private based model I will direct the show and will also be available to share information and guide her if she wants me to.
The entry would have a 2000 token fee that serves two purposes: first, to weed out models that are not serious about this and would not be willing to come all the way here to cam with me if they won. And second, all the entry fees will be collected and the sum will go towards covering part of the winner's travel expenses. If there are not enough entries to cover the ticket and hotel I will pay for it out of pocket.
If you are interested and you are thinking about entering, here you can read more specifics:
HOW IS THE VOTING?
HOW I WILL PROMOTE THE CANDIDATES
RULES AND GUIDELINES
HOW TO SUBMIT AN ENTRY FOR CHATURBATE'S NEXT TOP MODEL
HOW WILL THE EARNINGS BE SPLIT
GO TO MY BIO TO TIP TO ENTER THE CONTEST
SEND ME AN EMAIL:
mmmilarky@gmail.com
Thank you for your attention, beautiful creatures of ACF!
Love you all with all my heart.