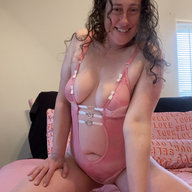 Mar 10, 2021
260
401
16
Twitter Username
Streamate Username
I want to get some opinions on an interaction I had the other day. I am still new to camming and am very much aware of and opposed to any sort of age / family type of play / role play.
The other night the member starts a private (group chat mode) and starts typing a SAD story about how he is a dad who doesn't know what to do. I have thought about this a bit and I honestly must admit this man may have been completely lying and ALSO may have some perverted thoughts about his daughter himself. That said I tried to be polite and helpful.
He told me a disturbing story that his daughter wants to get into adult work. To that I said she is 18 and having your parental support is great, she could make a livable income safe at home ... BUT then he brought up the fact that apparently his daughter is dating her old cheer coach
who is similar age as him.
I am afraid just typing / chatting with this man and hearing his story could get me banned. I told him to focus on helping his daughter see financial possibilities and become liberated from her relationship with coach. I honestly don't know how real his story is.
I personally cannot imagine an 18 year old wanting to be with a 53 yo making porno videos ... especially as the dad said it was "coach's" idea and coach is one wanting to get her into adult work. This made me feel so sorry for the girl, and angry at these older males in her life taking advantage of her. I do want to see this woman liberated and able to afford her own apartment away from dad.
I am just thoroughly disturbed by it. I wonder if Coach / Dad is the same person or not. This could be totally made up scenario. But it reminds me of when I was 18 I was completely vulnerable and lacked much hindsight to know better and could have gotten myself into such a situation. I don't know if dad was getting off to me feeling so sorry for the daughter.
how should I have handled this better? How would you have responded?
Thankfully it ended when more users came into private group chat that did want a sexual content show not just chat and then "dad" left. If Dad's story was true: was I breaking a rule corresponding about this? I really don't want to get into any trouble when I felt I was trying to be helpful but then blindsided by this disturbing story