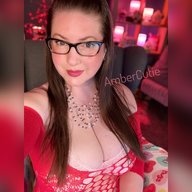 ACF Owner & Admin. (I don't work for CB.)
Staff member
Cam Model
Mar 1, 2010
26,614
1
113,400
0
Twitter Username
MFC Username
In just a few days we kick off the last super month of the year! The goal is top 100 Miss MFC and to have a wholelotta fun spirited times through the month. Details are below, and don't forget: none of this is available until after 12:01am PST on Dec 1!




Here's a preview of the video bundle, will be 450 tokens!

There will also be a fun charity event during the 2nd half of the month, details to be posted then.
I'm planning to be on cam Mon/Tues/Fri evenings, Thurs/Sat early afternoons. Off on Sundays (including Christmas, most likely.)
Instead of taking off Wednesdays during DecAmber, I'm trying something new:




Power-Hour Wednesdays will likely be from around 7pm til 8pm PST. Let's see how it goes!

I've also got some fun shows planned throughout the month, of course! There will be a cookie baking show and raffle for the goodies around mid-month, as well as gift bag prize draw days during Christmas week. Other shows: eggnog shower, tip-controlled sybian ride, oil dancing, beautiful agony, and santa baby hitachi cum.

I sure hope you'll be part of the fun and help me end this tumultuous year with a zing!
​
Last edited: