Many cam models spend a lot of time on social media curating their audience and creating content for social media. Why not get tips for that content as well?
Tip Me (
https://cptip.me
) is a very simple site that allows you to receive small tips from your social media. When you create an account, you get a link. Share that link in your social media profiles and posts. Users can then leave you a small tip, $0.01-1.00, with just one click. This allows your fans to show real appreciation for all of the content that you give away on social media instead of just hitting like. Because it is very fast and easy, just 1-click to tip, and allows small amounts, you can condition your audience to leave a tip whenever you post an image or video there.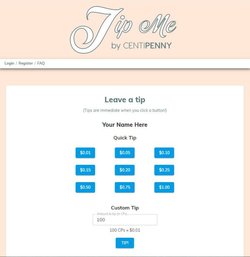 We also have other tools you can use, but there are some restrictions. Unfortunately we aren't able to directly support adult content, but we will be flexible to let you walk right up to that line, and even push it a bit, without a problem. You can find these tools on
https://www.centipenny.com
. Both sites share a backend, so you can sign up for an account on either one and use the login and such on both. Even if you sign up on cptip.me, if you want to make changes to your business account or see your earnings, you have to do those things from centipenny.com.
The "Virtual Tip Jar". This is a customizable widget that you can add to any page you control, such as a personal site. It just has a few buttons for leaving a quick tip with just 1-2 clicks without leaving the page. It is good for dropping on pages like ambercutie.com (the homepage, not the forum) where you have links out to your work. It can't be used directly on pages with explicit content. Anything more explicit than just the bare butt you see on ambercutie.com would be a no.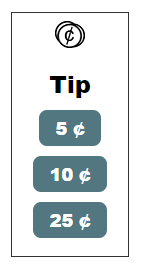 The amounts on the buttons, and how many buttons there are, are customizable. Also, users can always change the amount in the confirmation modal, so they can tip more if they choose. The default only takes a few lines of code that you can mostly copy/paste. With more code, you can fully customize it however you want. Change the look, colors, amounts, labels, etc. You can find example code on the API documentation page.
We have a content paywall (pop-up that appears on page load and locks out the page until they pay) and a fast checkout system that can be activated on button click or other mechanism. No shopping carts, just 1-click/no-click purchasing. As long as there isn't explicit nudity in what you are selling, it is fine. We can process less than $0.01 and up, so you can sell by the individual piece of content (like $0.10 or $0.25 for each image). We are cheaper than traditional payment processors for anything less than ~$2.50. This can be added to your site with as little as one line of code that you can mostly copy/paste.
Lastly, we have a referral program. Refer a business and get 1% of that business's earnings from it's first 12 payouts.
Signing up is free. Payouts are once per month, $200 minimum, and you get 85% of the earnings. Payments from everything (Tip Me, Tip Jar, Paywall, Referrals) are rolled up into a single payment. You just have to hit $200 total from all of them combined to get a payout. Payout is done through PayPal.
I will be happy to answer any questions or help you with things like customizing the tip jar. You can contact me directly via any of the channels on the website if you need to.