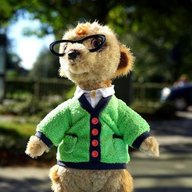 Nov 12, 2017
2,412
1
2,503
113
Twitter Username
Chaturbate Username
What just triggered me to ponder this and ask you all is because browsing Chaturbate a model I can remember from when I first joined back in 2016, who I then would watch, chat with and tip for her goals, I sometimes will have a look in on her but ever since 2016 she uses the same "goal/s", which is a tip sequence bot. In all of these years, she has never changed it and from what I have seen she has never tried anything new, bot wise or anything else. She has a very basic menu and as far as I remember that has not changed either. Of course, she will wear different outfits but otherwise, as far as I can tell for 4-5 years she has not mixed things up or even tried.

Now, obviously, I could be catching her at "bad times" and she may have tried other bots/options to add variety and spice things up.

I know on one hand you could say if she is still working here after that long, it must be working for her, but I am unsure exactly.
Surely you want guys to keep coming back for as long as possible and not to get bored with you/your room due to the fact it's literally the same thing every day for that many years, right?


So I am curious to both models and viewers/tippers, do you get bored with a model if she doesn't at least try to add some variety in her show? How long can you generally "put up" with the same thing in a model's room before you get bored of just seeing "same old same old" and then seeking other model/s? As for models, do you yourself get bored (in your own room) if you don't try to spice things up and try new things? By new things, I don't mean grand or eccentric ideas, themes, etc. Literally, something as simple as (on CB) different bots and goals can be great and make a difference, instead of constantly having your goal as "squirt/cum at goal".


Edit:
Just to add to this briefly... I have become like this with a few women, and some have asked me (not because they know I have become bored) why they are not getting as many viewers, tippers, etc. I try to subtly ask "Have you tried some different bots/ideas?" but then too many are too comfortable and/or scared to try new ones. Obviously, there is only so much you can do or say (as a viewer/tipper) without being harsh (and I never would be rude).


Edit 2:
Actually, the above edit made me think... are you, as a model OPEN to suggestions and ideas on what your fans and tippers would love to see from you for goals, and in general, your chat room? Obviously, I mean reasonable things, nothing too out there and ridiculous.