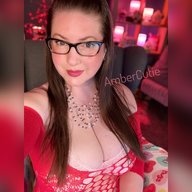 ACF Owner & Admin. (I don't work for CB.)
Staff member
Cam Model
Mar 1, 2010
26,614
1
113,400
0
Twitter Username
MFC Username
Last night's cam session was one of those super interesting, overstimulating ones. Where you go through such a range of feelings and highs and lows that the next day, you just want to talk about it to help it sink in and sort out thoughts.
I actually hit my
awesome daily token goal
last night. That was the first instance of that happening outside of a MegaMonth/AAA Month for
over a year
.
I don't know if that last statement will really mean much to you, but I have a feeling at least a handful of cam girls can relate to it. For those girls who have been at this camming gig for at least a few years, it's really likely they've gone through periods of time where meeting daily goals just doesn't feel as carefree and natural as it once did. It can really do a number on your psyche! Lately for me it's been an adjustment, as I used to be able to hit goals like that pretty frequently and now it's so rare. But my plan has been to stay upbeat, keep chugging along, trying a couple of different time slots here and there, keep making new monthly content and posting sales or games a couple times a week. And I have really been enjoying my time on cam, the chats with my regulars, and some of the fun shows and silly moments we encounter, even if I haven't been making the same goals I was once used to. But last night, a combination of silly girly hormones, a couple of trollish weirdos, and an incredibly slow first hour led to me opening up to my viewers and letting them know how frustrating it can be to feel so out of control of my own success.
You would think that viewers would respond negatively to that sort of honesty from a cam girl. We are supposed to be these beacons of light and happiness that they visit to escape their own frustrating realities. To some people, cam girls are not allowed to complain or verbalize that they desire compensation for their time and effort (and thus are labeled "spoiled" or "entitled" when they do.) But people seemed to be very receptive and understanding to what I was saying, and there was an outpouring of support that really made me feel heard, appreciated, and welcomed. It was beautiful. The way people reached out to me really reminded me how wonderful this job is, and how incredibly lucky I am to be where I am. Gave me a big morale boost and inspired me to keep up this chugging-along happy-go-lucky ambition indefinitely.
Being a cam girl is magnificent.
My hope is that I can continue down this path for many years to come, and enjoy the highs while letting the inevitable lows roll off like beads of water. I just need my friends to stick by me and keep sharing the smiles like we have for all of these years. And I feel good about that.