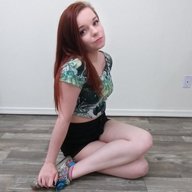 Jul 14, 2017
669
1,786
93
Twitter Username
MFC Username
Streamate Username
Who else is excited?
I stopped watching after David Tennant left just because I didn't have access to cable (I moved) and I didn't have any way of seeing the newer episodes with Peter Capaldi so I have no idea what's been up with the show since then. I liked Jodie Whittaker in Broadchurch, although I have a hard time picturing her as the Doctor (very different characters). But she seemed like a good actress so...not too worried there.
Honestly though, the fact there are so many fanboys getting all grumpy about a female doctor just kills me.
I saw this GIF on Reddit as one ladies response to watching the grumpy fanboys be all butt hurt about a male character going female and I lost it.