Jul 9, 2016
1
0
0
Twitter Username
Tumblr Username
MFC Username
Streamate Username
Chaturbate Username
Hi, I've only been on Chaturbate for about 3 weeks, however I've been on pornhub and other sites before, so I know how some of the viewers/fans can be. Just yesterday a fan purchased
four
things from my Amazon wishlist. Don't get me wrong, I am incredibly grateful. They spent a total of $267.97! But I had never heard from this fan before, on any of my other website nor on Chaturbate and just suddenly bought four gifts and then requested i add him on Skype (i allow a free private show after i receive the gifts). I don't normally add fans on skype, but i felt like I needed to because he spent so much money.
I feel bad doubting him...but I just want to be sure a fan isn't just trying to get a free show from me right away and then cancel the gifts after me spending so much time with them(and i actually went out and bought a pair of shoes because he wanted me to).
I sent him the below message, but he never responded to what it said, he just said "u on"

"I can't do a full show until I receive the toys. I can do 20-30 minutes, a preview show. But I don't normally do shows until I receive the gifts and I can show the buyer me playing with them and how fun the toys are. I don't want to be rude, I'll do a preview show.But I cannot do a full performance until I receive the gifts, honey, it's my policy and I am already breaking it with agreeing to do a show on here. I hope you can understand, I am very grateful and I'm extremely excited to use the new toys with you being the first person who sees. Typically preview shows are just freestyle for me, similar to free viewing on chaturbate but i get nastier faster.

Again, I hope you understand.
Ana T."
Has anyone ever had this happen? Am I just being too paranoid about this?
Any advice??
here are some screenshots from this situation...
The Purchased Toys: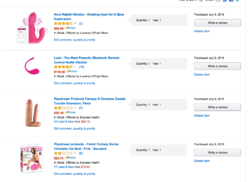 Skype Screenshots: