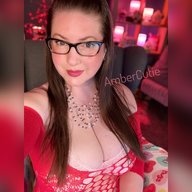 ACF Owner & Admin. (I don't work for CB.)
Staff member
Cam Model
Mar 1, 2010
23,774
104,913
0
Twitter Username
MFC Username
As some of you may know, I've been dealing with a hip problem/injury for some time now. MRI shows I've been dealing with femoroacetabular impingement (FAI) in both my right and left hips for a long while, and back in June of 2015 I ended up with a labral tear in my left as a result of too much stress on it from a show I did on MFC, then injuring it with bad bowling form.
(Go ahead and laugh. Injured while bowling? HA! Only Amber could do that.)
I've been through 2 rounds of physical therapy to try and sort it out, but will be finally going through arthroscopic surgery on my left hip this week. The impingement will be rectified and the torn labral cartilage will be reattached.
I'm both relieved that I will finally be on the path to less pain, but also quite tense and anxious about the surgery and months of recovery that will follow. I'm not the toughest cookie in the jar when it comes to dealing with pain and such. I'll be using a machine at home for 6+ hours a day to help it heal correctly, be on crutches for at least a month after, and doing loads of PT for upwards of 4 months.
Thus, I will not be around on cam a whole lot over the next couple weeks during the initial recovery. And when I am able to get on cam, I'll be pretty immobile and limited on what I can do. For a cam girl, not being able to be on her normal hustle and able to hit normal goals can be pretty unsettling. Over the last 6+ years I've not really taken more than a few extra days off here and there, so I'm wiggin' out just a tad. I feel like any casual regulars whom I have gathered in AmberLand over the last few months will easily forget I exist and find other girls with a similar mojo to spend their time with.
And while I know my most dedicated of regulars will be in contact with me on Twitter and other media, I won't be living up to my usual amount of entertainment and time shared than they are used to. I imagine those bits of time I am able to get on cam and hang out they may feel pressured to help hit goals that day since I won't be able to hustle for masturbation countdowns and such from the casuals. I don't want that pressure to be on them though of course I will appreciate any and all support during this odd time. I'm going to do my best to have content sales and games for newcomers to help make the time on cam as productive as possible, so hopefully all will work out swell and the AmberLanders don't get too annoyed at my attempted sales tactics.
Oh the worries and plannings of a cam girl...
Anywho, I do have a couple of videos I'll be pushing pretty hard throughout February. They will be available after the month ends at full price, but anyone who gets them during Feb can have special bundle pricing. (Image and link below! /shameless promotion)
I'll be on cam this evening (Monday) for one last cam shift before I take my short hiatus. It'll be my last cum show and last butt wiggles for a while, so drop in and enjoy it if you're around.
Jawbs will be keeping an eye on admin/moderation stuff here over the next week or so, but ACF approvals this Friday will be delayed until the next batch the following week. You may see me around here or Twitter intermittently during the next couple weeks and I'm looking forward to chatting offline (off MFC, I mean) with many of you. Your jokes and kindness will go a long way to keeping a positive Amber!
So I'll leave you with this link and info, and say "Thanks in advance for the support and happy vibes and see ya in a bit!"
http://profiles.myfreecams.com/AmberCutie