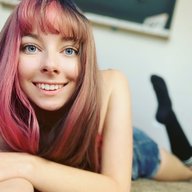 Jul 13, 2019
205
228
16
Twitter Username
MFC Username
Chaturbate Username
I need advice on what to do. I'm 19, I live with my parents and go to college. They claim me as a dependent each year. As far as they know, I don't have a job, but I'm working on Chaturbate, FanCentro selling my SC, and selling custom content through Reddit. I'm making enough that it is extremely likely I will need to file taxes at the end of the year. Is it possible for me to do this without them knowing, and where can I go for help?

I'm trying to move out ASAP with my boyfriend, but they know he's broke like I supposedly am so they're going to be wondering how we're affording it. I'm working on ideas for that. Really any advice here in general is appreciated. I'm really freaked out about taxes because I have no clue how to file. If there's no way to do it without them knowing then I'm gonna need to make a pretty big decision. Honestly, I don't care if anyone in the world knows I webcam except my parents. If I do end up telling them, I would at least prefer to be moved out. I don't think I can go through that while I'm living with them.

Do y'alls parents know about your webcamming, and if so how did you tell them and how did they react? If they don't know then how do you hide it from them? I hope I'm not the only one doing this while living with my parents, but I might be.