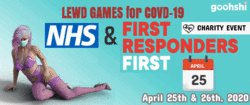 Hello there fellow camgirls and camgirl lovers,
I run
Goohshi
, a new live streaming platform dedicated to supporting lewd
gaming
. I'm new here so not yet the most active AmberCutie community member.
I want to personally invite you to our COVD-19 Charity Event
this
weekend (Sat/Sun Apr. 25th/26th) supporting
First Responders First
and
NHS Charities Together
.
COVD-19 has hit us close to home. Our
Discord
moderator
HaloGrl
is a nurse on the front line. Thankfully she has not contracted the disease, yet. However, her nurse cohorts have. Their stories are gut-wrenching. When a nurse is put on the ventilator and then recuperates after experiencing excruciating pain and fear, they are expected to return to work the very
next
day. That's how tough it is on the frontlines, and
no matter what you hear
, these brave fighters do not have enough supplies and have to re-use masks, Personal Protection Equipment (PPEs), even to the point of in emergencies, still, sometimes having to adorn trashbags for protection.
One of our most popular and beloved adult gaming streamers,
LauraS
, will be doing a 24 Hour Stream to raise awareness. This is personal for her. Her family, mother and father, are directly tied to NHS Charities Together. She will be doing an exciting mix of lewd and non-lewd games, including party games that you can join in her
Discord
.
It's been really tough to get awareness for this event, and the platform, in general. NSFW advertising is not allowed on Google, Facebook, Twitter, Reddit Ads. You get banned/blocked nearly everywhere you even mention lewd gaming.
That's why this Charity Event is so important to all us sex gamers. It's an opportunity to show the world how big our hearts are. How much we love people and care for each other. How any stigma for adult gaming should be wiped from their minds and they should even try playing an NSFW game and join us, because they will love it as much as we do.
What can you do to contribute?
1) Donate your time. Watch and support the streamers, and have a super fun time! I recommend you Create an Account on
Goohshi
and then
[Follow]
some of our Top Lewd Streamers to be notified by an Email Notification:
Streamer
LauraS
- Doing a 24 hour lewd/non-lewd party stream, will she make it?
Streamer
JennyStarveling
- If you have not had Virtual Sex with 3D Avatar JennyStarveling, you have to try it! It's AMAZING!
Streamer
Syfy88Man
- Been playing every Lewd game since Leisure Suit Larry was considered hardcore. You probably know, or know of, him. He streams the latest updates of your favorite VNs in-between some regular Star Wars/Star Trek game streams.
Streamer
Nielsen145
- Streams some of the most intense Visual Novels around. Ones that you thought no one would ever play in public! Does DAZ Renders live as well!
Streamer
TransFatty
- 3D Hentai modeller using ZBrush and much more.
Streamer
MS-Goohshi
- Me! I love lewd games, I play a lot of the Visual Novels here as well as 3DXChat, live!
2) Donate to the Charities during the Event! Our Cheering Currency is called "Goo". And I am
matching any and all Goo with a 20% Bonus
. I hope this will encourage some to donate knowing that your dollar goes that much further.
3) Are you a Game Developer? Use this event as a chance to Showcase your latest update! Invite your Community to watch one of the streamers play your game live! And you can, of course, stream it live yourself!
4) And most importantly, if you are a cam girl and would like to stream playing lewd video games, either during the event or after, please join us!
Everyone is invited! I hope you will join us for this great cause. Let's set the record straight on what our passion for Lewd Gaming is all about.
Contact us! Ask questions! Reply here, send messages, or better yet pop in and say hello in our
Discord
With Love,
Ms. Goohshi