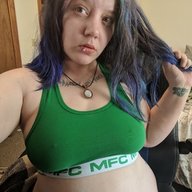 May 15, 2015
46
100
63
31
Twitter Username
MFC Username
Streamate Username
Chaturbate Username
ManyVids URL
My first time ever camming was on streamate in July 2010. I dabbled again in 2014 on Cam Model Directory.

My official Cammiversary is February 13th 2015. This is when I dived in full time & have never looked back.

My birthday is July 13th 1988, I was born in Massachusetts, but was raised in Florida. I now live in Maine.
(no I won't meet you)
I'm a kitchen witch.

I was #9 Anal Star of the Year for the MVAwards 2019.
(previous year rank was #25)
I'm a MILF x 2 & proud cat mom to a Russian blue named 'Four'
(named after Jhin's obsession/ulit from LoL)
I am
(basically)
married to Jace. He is also a camboy & is the dick in all my films

My focus for camming is in clip making, but I also perform live on various sites & offer 1v1 privates
(my sites will be below!)
I am also a digital artist & run an etsy for wire wrapping & self care products.
(more info below as well)
If I'm not on cam, I'm typically doing cam stuff because my Capricorn rising won't let me FEEL accomplished. That said, when I am procrastinating *cough* I am creating art, playing world of warcraft, spending time with my family, or binge watching something (like always)