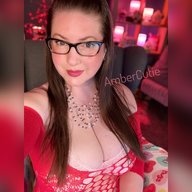 ACF Owner & Admin. (I don't work for CB.)
Staff member
Cam Model
Mar 1, 2010
26,614
1
113,400
0
Twitter Username
MFC Username
It has been a LOOOOONNNG time since I've done a mega/AAAmonth.
The last official "mega" month I did was "
Mega May 2014
", and previous to that was
fAMBruary 2014
. Until then, and ever since 2010, "mega" meant going for
Miss MFC top 20
, or as close to it as we could manage.
Both of those months I mentioned above we finished in top 50, but didn't accomplish top 20 as the token requirement and hours on cam needed for those very top ranks have grown so much since my early MFC days! I switched to the term "AAA month" for any special months after that to downplay the push for rank, but I really have missed that excitement and push for placement...
SO! I'm bringing back the term "mega" for #AwesomeAugust, in hopes that we can once again reach top 50 in Miss MFC ranks! I realize this means I need to put in a lot more time (and offer a lot of cool prizes and incentives for everyone to pitch in a little more than usual months) and there's a huge chance of not quite making the goal, but I'm SO EXCITED to try! And
August 28th is my 7 year cammiversary
on MFC! Regardless of rank outcome it will be a blast spending lots of extra time with all of you during this
special
month.
I've already started planning my schedule, fun shows, content and prizes for #AwesomeAugust 2016. I truly hope that any of you who have enjoyed me through my 7 years will stop by and enjoy the festivities in any way you can. Even if it's just saying
HEY
! and congrats on being part of MFC for so long, I will appreciate seeing you!
I'll make a new blog once I've got all the plans hammered out to let you know what to look forward to! In the mean time, save up here and there so you can help rock the epic month. During the rest of July, I will not be pressuring/pushing too hard for big daily goals and such, and the very last week of July I will only be on a few hours (family visit!), which hopefully will help my AmberLanders prep for the big push...
Because:
BONUS #AWESOME
would be to make
top 20 on August 1st!!
If we really rally during the hours I am on cam on 8/1/16 there is a good chance we could at least see my name on that top 20 list for an hour or two. I know we will slip off that list in the hours/days following, but it would be
epicsauce
to get a little taste of the "old days" if only for a few minutes.
. I hope to be on cam the evening of 8/1 for quite a few hours to accomplish this. Go big or go home, right?
Stand by for updates, and thanks in advance for prepping for #AwesomeAugust 2016 with me!