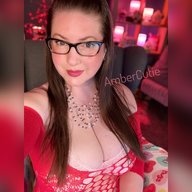 ACF Owner & Admin. (I don't work for CB.)
Staff member
Cam Model
Mar 1, 2010
26,614
1
113,400
0
Twitter Username
MFC Username
Yeah, it's an "ish" sort of Mega this year as I don't want to go quite as pedal to the medal as I've attempted to in last Mega months. Instead of a top 50/100 push, anything in the top 200 will be the goal for March! With the amount of time and extra stuff I am able to put into the month, I think this is an attainable thing. Of course it's even more fantastic if AmberLand ranks higher, but we'll see what happens!
I plan on being on most Saturdays and Wednesdays, Thursday afternoons, and Mon/Tues/Fri nights as usual. I do plan to take a few days off after my birthday show to relax and enjoy personal birthday time.
Please do not tip for any of these goodies until it's past 12am MFC time (PST) on March 1! I want every token to count toward March goal.
I'm not even displaying most stuff on my Share page/profile until Thursday morning anywho...


New Vids:
There will be a discount bundle available at 299 tokens, but my 2 new 4k HD vids will also be sold separately.
1. Getting Ready For My Date With You - a voyeuristic view of me prepping for a date in a pretty hotel room. Nudity but no sexual play. - 150 tokens
2. Pretty Angles Cum Session - a little doggystyle, face down ass up, then missionary to finish the job. - 200 tokens
Raffle:

Wall Flowers:

Daily HT: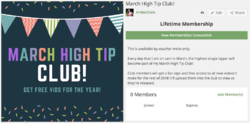 Panties sale:
I have never just outright sold panties before, but here we go!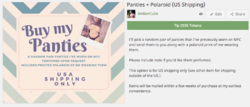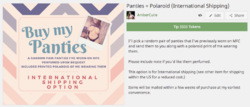 New Club:
(I suppose I should have reminded readers that you have to tip through the actual club for it to count you!)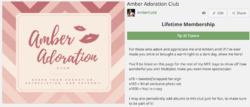 Snapchat:
I'll be offering a new subscription for current snap friends to renew later in the month but for the first 7 days I'll have a super sale of 99 tokens for newcomers to get access through March.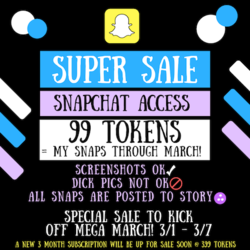 Special shows:
Costume night, cooking time on my birthday, butt plug, bathtub hangout, video gaming, a beautiful agony group show, a cummathon group show (end of month), and maybe a Sybian show if things are going well.
I look forward to some fun times with everyone who joins me! Let's have a rockin' birthday month!
Last edited: