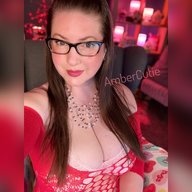 ACF Owner & Admin. (I don't work for CB.)
Staff member
Cam Model
Mar 1, 2010
23,774
104,915
0
Twitter Username
MFC Username
It's approaching fast! One week from today we kick off my birthday month in AmberLand, and I hope to make it a stellar day!

I do plan to be on cam for a few more shifts during February (I think weds/thurs/fri this week and monday next week), and while I obviously would like to make some small daily goals during those, I don't want to encourage anything crazy even though you've all missed me!

It would be amazing if we could grab a spot in top 20 on March 1, and if the AmberLanders can conserve just a bit until then, we may be able to achieve that! March 1 I'll be on from afternoon through evening, aiming for 3-9pm PST.

The ultimate goal for the month is top 75, but to get a taste of the glamorous lights of the top 20 for a day (or I can dream and imagine it could last through my bday on March 10?!) would be really fun. I plan on being on cam every day from the 1st through the 10th then I'll take a 3 day weekend 11th through 13th to celebrate my bday off-cam.

I'll update this thread on Monday Feb 27 with all the details so you can get excited about all the goodies! This will be the only mega month until August, so let's get all hands on deck to make it fantastic!