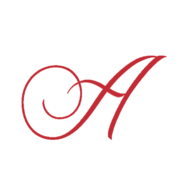 Dec 25, 2017
12
13
3
Twitter Username
Dear Models and Members of ACF,
Belated Merry Christmas to you all.
I would like to introduce you the beta launch of our new service: monAmie.live, for which we're currently looking for up to 1-2 dozens of models to be our beta users/testers. We're a young startup enabling adult content creators to offer pay-per-minute livestreams from the convenience of your mobile browser. My name is Berk (
Linkedin
), founder of monAmie.live, I'll provide a little more info about myself later below, but would like to start with why I've created monAmie.live and how it can help you.
monAmie.live gives you a new dimension of freedom: livestreaming anywhere, anytime from the convenience of a mobile browser. With the addition of our new feature; subscription to video/photos in January/February 2018, we are planning to do a full public launch. To make an analogy with the services you may be already familiar with: it'll be a combination of Skyprivate (but from mobile browser, no apps, installs or extensions) and Onlyfans (but fully adult compliant and with chargeback protection).
Use case is more relevant for content creators with a larger dedicated audience or with at least a few regulars or for those of you who would like to slowly build their monthly recurring revenue base by uploading a few photos and short videos each week for followers to subscribe. We:
provide you a fresh, mobile-first design with the look and feel of your and your customers' day-to-day apps
offer best-in-class payouts through a lean and agile organisation: 80% revenue share with chargeback protection
listen and encourage you to provide critique and suggest new ideas and request features that you believe will help you the most
Our goal is to provide you one-stop-shop for pay-per-minute livestreams from mobile and subscription to exclusive mobile-optimized content, and develop many more features at the speed we can catch up with your requests with our currently small, but young and energetic team.
Please see below how our service compares to other providers and our roadmap: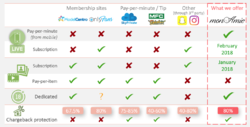 We're not claiming to be the best at everything, we have a long way to go, have a creative roadmap to develop, and hopefully will be able to provide a differentiated and attractive use case for everyone to give it a try soon enough.
You can create a "Content Creator" account at
https://creator.monamie.live
now in just a few minutes. Hope you can help us steer the direction where we will go in the mid- and long-term. As a token of appreciation, we'll do a small lottery among the beta users before public launch to gift a high-end Samsung S8 phone, that you'll hopefully use with monAmie.live. If our service (incl. roadmap) sounds like something you wold like to use, I'm open to do pre-payments as well, as I understand that tying some of your income to our platform could be perceived as high-risk because no one is familiar with monAmie.live yet.
In addition, you will gain bragging rights that you believed in us before everyone joined the band wagon.
Happy to provide more clarifications on this thread, per DM, on our support channel/email, livechat widget at our website, skype, etc.
Cheers,
Berk
-----------------------------------------------------
Keep on reading for more details below:
Earnings: 80% revenue share with chargeback protection
Payouts: weekly payouts Monday-Sunday (GMT) with $50 minimum transfer limit (we're not open to feedback on this) with 10-14 days delay (our payment provider pays us each week on Friday for the previous week, then we can pay Mon-Tue of the following week and it might take a few more days to be transferred to you). The payouts are free for SEPA (EUR) payments, US (ACH transfer), and if this feature is requested heavily also Paxum (currently not implemented, but not difficult to do so). Transfer costs to other regions/currencies we support are around $2.5 per transfer (https://monamielive.freshdesk.com/solution/articles/33000201632-how-do-i-get-paid-) which we are planning to remove once the platform scales
User payments: payment pages are responsive and very simple. This is powered by SecurionPay which works great with adult entertainment requirements
Current version works on android phones, desktops, windows laptops and macbooks (Chrome/Firefox as browser, not Safari); however, the UI is optimized for mobile only and desktops will be blocked from access until public launch. Livestreams from and to iOS will be supported by February 2018. Subscriptions will be supported already by January.
How it works:
Livestreams: We have a "how-it-works" section at the website as well, but the summary is that the users can add funds to their accounts via a credit card (which they can use to re-add funds even mid-session), and pay for the livestream session on a pay-per-minute basis, deducted from their balance. They can A) book a session in advance if the content creator is offline, B) can request a session if the content creator is logged in but not live, or 3) directly join an existing livestream.
Subscriptions: more on this when we launch the feature, but it'll be a subscription service to your videos/photos/livestream-specials billed monthly to the client until they cancel. Your videos/photos will be deleted after 30 days, so that new subscribers won't have access to the whole historical content from day one.
As promised, a bit more about myself and the legal entity:
I come from the "mainstream" industry having started my career as an electronics engineer with a masters degree in communication systems and have been working on mobile video technologies since 2005. I turned into startup advisory 7 years ago and have been working as an investment banker for technology startups. I founded the operator of monAmie.live, Fluxi Technologies (
http://fluxi-technologies.com/
), in Estonia, birthplace to numerous known startups such as Skype and Transferwise, to be able to run a global business in a trusted EU environment which is 100% digital (
https://e-estonia.com/
). I'll be the main guy facing all client communications for a long time. If you click
https://monamielive.freshdesk.com/
or send an email to
support@monamie.live
, I'll be answering your questions/concerns. I'm joined at the moment by three developers, one designer, two part-time advisors and we've been working on monAmie.live since more than a year. We're to be joined by an experienced marketer in adult entertainment around the time of public launch. Looking forward to the exciting times ahead.