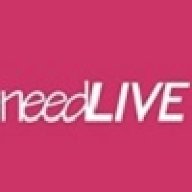 NeedLive
Industry Representative
Welcome back, NeedLive!
Do you remember NeedLive?
Some of you may remember the time when NeedLive was an independent webcam site. In early 2012 the website became a part of the largest adult webcam network and the old design and features were removed. Times are changing and we are now happy to announce you, that and continue where we left off 2 years ago.
Let's work together!
NeedLive will remain a part of the DuoDecad network, but will be operated by the old management, even some people from the old staff will work with us. We are inviting every former studio and webcam model to work with us again and have you on board. If you would like to work with us, or have questions, please contact us! The original NeedLive site has been running now for almost three weeks and we received a lot of positive feedback from studios, models and members.
To celebrate this rare occasion, we are offering these special promotions:
Kickstart Bonus
All models get a $100 Kickstart Bonus
, this is our contribution to a profitable business.
To get the bonus, you have to make another $100, which is quite easy
with our super-high payout of up to 85%!
Bonus credits for members
Treating our members well is a trademark of NeedLive and to show our appreciation we are giving extra credits on every second purchase! Our
"Buy 2, get 1 FREE
" promotion will run throughout July.
If you had a Model or Studio account before then you still can use it, we sent your login information to your registered email address. In case you have issues with logging in then do not hesitate to contact us for help!
If you never had an Studio or Model account on the site before then
you can register one here:
http://www.needlive.com/studiosignup/step0.php
You can help us improve the website by sharing the good news with other models and inviting members over. You are also welcome to follow our
Twitter channel
and like our
Facebook page
You can check out the detailed descriptions of the most frequently asked themes under our
Wiki page
If you have questions, please contact our
Online technical support
or write an email to us:
support@needlive.com
Best Regards,
NeedLive Team