Hi there,
I am part of a joint study involving SJSU, WLU (Canada) and MSU and we are attempting to develop a comprehensive understanding of how those who participate in online sex-related content production manage their work identity in relation to their "real-life" identity and deal with the implications of the stigma associated with sex work. The end goal it to combat the negative stigmatization of participants.
We are asking for participants to participate in an online survey (approx. 45 minutes long) and share with us their experiences and knowledge regarding their everyday work.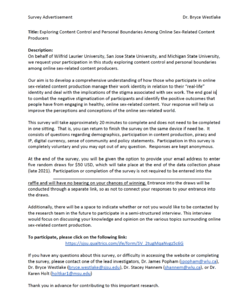 Above I have included the document with all the necessary information regarding the survey and below I have included the link to participate in the study as well.
Thank you.