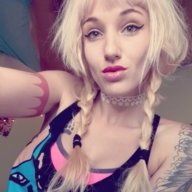 Jan 14, 2017
28
8
16
Twitter Username
MFC Username
Chaturbate Username
I wanted a little insight on how you ladies do this. I have only two video store MFC share and manyvids. The cam girl who taught me about MV has like 200-300 videos and sells them for only 5-10$

So not to expensive but i had my vids as that, and then i notice on mfc cam girls sell for 200-500 tokens. so i was listing my videos like that.
obviously the price difference, and cam girl cut is a difference. I feel like people are going to my manyvids and buying them cheaper there once they realize.

Also my mv has been making way less sales now that i dont share my sales on my twitter feed anymore. And i dont because i am a cosplayer and i want some professional gigs some day and to be a guest at cons so i havent been promoting my mv publicly as much. What do you ladies do about pricing videos, on diff platforms, and how you advertise them besides live on cam?