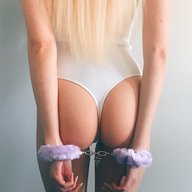 Jan 12, 2020
30
26
6
MFC Username
Hey! I am about to start camming. I have a good full time job and this is something I'd like to do on the side for some extra spending money.

I have been considering the pros and cons of showing my face vs. not. I think I would like to remain anonymous - I have an amazing body if I don't say so myself and I think I will be able to use cute lacey masks and such and match them to my lingerie to stay cute and still show my hair, lips, etc.

However, I know a big part of camming can be building that connection with your regulars and I know covering parts of my face will lose some of that personal touch.

Can I get everyone's thoughts - positive and negative, advice, and maybe even suggestions on cute masks and where to buy?

Thank you in advance and I'm looking forward to being apart of this community.