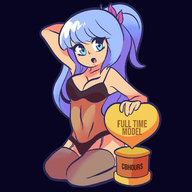 Mar 24, 2019
1,585
4
1,479
81
Twitter Username
Ticket#20867971
@punker barbie
I explained in the ticket that embed iframes now have scrollbars. For example if you go to an embed page like this one:
https://chaturbate.com/fullvideo/?t...nabel054&disable_sound=1&mobileRedirect=never
you clearly see scrollbars specially in google chrome but less obvious in firefox.
Their response was to go into my system settings:
Windows: From the start menu, visit Ease of Access -> Display. Check the 'Automatically hide scrollbars' setting and try turning the switch the opposite of how it is currently set.

Mac: Open System Preferences > General, find the 'Show scroll bars' section and select 'When scrolling'.
So rather than fixing the problem they want the entire world to hide scrollbars?
I explained it to them again and they responded again:
We're sorry for the inconvenience. We no longer see the scroll bars when system settings suggested are modified. Please try adjusting these settings and let us know if the scroll bars are still there after doing so.