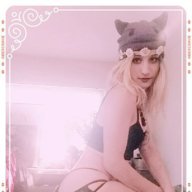 Sep 5, 2017
91
54
28
30
Twitter Username
MFC Username
Chaturbate Username
I was wondering how I could spice up my video collection. I only have 6 videos so far, and have one planned: a masturbation show featuring me fucking myself with my glass dildo while using a small vibrator on my clit until I cum, and then actually I have another video planned for double penetration (little vibrator in ass while bigger normal-sized dildo in vagina), but after that I'm getting stumped on ideas.
I could do a POV blowjob video still... that's another one I'll probably end up finishing today and posting online.
What other types of videos do you gals like to post for sale? I'm not into BDSM or anything like that. I'm pretty vanilla, although I do have a foot fetish (receiving foot worship and giving footjobs). I guess I could do a JOI video, too. Those seem pretty easy to do, or maybe a findom, even though I'm not usually into any sort of dominant role whatsoever. They both seem like something I could pull off by just being an actress about it, y'know? Not that it really turns me on, I just have confidence I can make a decent video featuring JOI and findom.
Otherwise, what do you ladies have in mind for some sexy videos I can add to my collection? I've recorded and uploaded these so far:
-Foot worship (my bf worshipping my feet and making out with me while I start to give him a footjob but deny him of it)
-Feet worship (worshiping my own foot)
-Masturbation cumshow with glass dildo (self explanatory--was done for a show)
-Close-up of my boyfriend eating my pussy
-Striptease
This is what I'm going to add so far:
-POV blowjob till he cums all over my mouth/face
-POV sex (cowgirl position)
-POV sex/hair-pulling (doggy style)
-JOI
-Possibly findom
-Double penetration with bf's cock fucking me while using the mini-vibrator on my clit, then switching to ass for double penetration (might be difficult to film this one between the two of us heh, but it sounds so hotttttt, ugh!)
I'm pretty open-minded when it comes to doing shows (no anal though besides my mini-vibrator toy going in there). Any odd little fetishes I could add to my collection, maybe? Like dangling a shoe from my toe, for example. Just weird little fetishes like that I wouldn't mind catering to. Or any other vanilla sort of act I'd be down to do most likely.