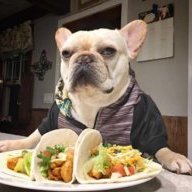 Jan 9, 2015
4,387
14,160
243
Twitter Username
Streamate Username
Anything you snack on that truly makes you shake your head at yourself?

For me it's fried feta. Literally just throw chunks of feta into a pan and fry it. (Needs to be a brand with lower fat percentage.)

Or cup-a-soup. I like to mix a pack of chicken noodle with a pack of cream of chicken.

Basically a week's worth of sodium in both of them I'm sure.