Jul 6, 2017
27
19
46
23
Twitter Username
Without going any further... I wanna talk about jasmin, puntually, livejasmin. Jasmin is a site known for prioritize member over models. although, they have changed over the years (about 5 years ago was worse) but, they still never pronounce themselves on the subject. I am talking about respect to the model. It is true that being a camgirl is not a bed of roses there are things that you must assume, such as that your sex life will be made public most of the time without your consent, and of course, that you will receive in your room all kinds of human fauna without being able to do a lot about it, if you want to make money ofc. But I want to emphasize this last point because personally, it is not correct that everything stays in "It is normal" or "just ban and report" when these companies with large capitals and platforms can begin to invest in educating and raising awareness among members, which ultimately Improves traffic quality.
This is a tweet of jasmin in #8M, terrible. At first sight (corporately) and speaking from my experience on the site. Jasmin is a misogynistic page, the values of the organization are misogynist and not friendly to those who support them, sex workers, models. In addition to the concept of outdated glamour that requires you to change your essence to look yourself same to all. The site does not look like camgirls, it looks like a lingerie catalog (all rooms look similar, mostly because almost all of them are exploitative studio models that anticipate their brand over the model's brand). And that, in private, the glamour is over, if you are willing to shit and eat your own shit, it will surely be on top. This is the time that still I cannot enter to the fetish category because my room is not dark and gloomy, they have a cliché version of fetishism, black or red, latex, leather and whips. LOL.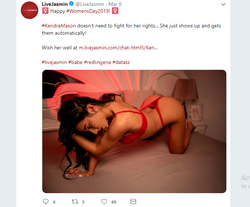 What other platform must to cares more about promoting respect for sex workers than a camsite? It seems that what they do goes against their own interests, until I discovered that they cannot promote respect for the models, because the members do not pay to respect you. They pay for other things, for things they could not do or tell to a girl outside without first going to jail. It is absurd if you think about it, as a professional or technician or craftsman you charge for your service, that does not mean that you can not relate on good terms, or that you are a greedy person or with little value...
At this point I want to talk about a very important issue then. How do visitors see the models, how do they perceive us? Many paying members, solvent, old on the site that visit my room, perceive that air of "dignity" on my face (I am also dominatrix, or well, I try, lol) and simply they don't like it, bothers them. I enjoy my work, i try, but it seems that the discomfort is more attractive. Always, every day, vanilla, kink or sub, they try to make me understand what my place is, to make me see that if I don't know my place I will not earn money on the site. Which place? Does the money-sex transaction cancel humanize the model?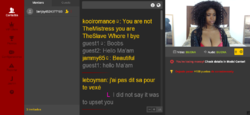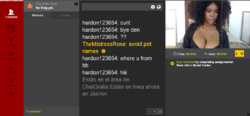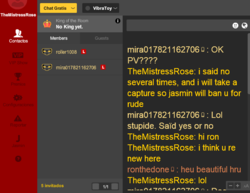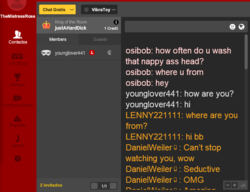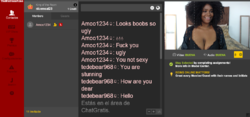 And this is a valid question because when a VIP member, exclusive, at all... tries to offend me the first resource they use is to use
camgirl as an offense
. That is, you are here, in this place, there is nothing more unworthy than the place where you are sitting, delete that dignity face, does not fit you well... Then I wonder if I am scum, what are they doing here? It is here when the site must ask what customers think of those that make them feel pleasure. And this is important, because most of the prejudice towards sex workers comes from those who consume the service, and it is a discussion that we tend to avoid, for fear of lose...
This logic applies same when a #NiceGuy
tries to praise you by telling you that you are too much for that place, that is, again, the place where you are currently sucks (and it has nothing to do with it being they who cause that place sucks hahahaha).
So. Why to consume something you consider rotten? All camsites must have to start worrying about how their traffic is treating the models. From that question we should leave to find the origin of prejudice and repulsion for sex workers.
Finally, I must add, I am aware that most models here are free to let their personality run working on sites that work with tips and goals, in my case, being kink-fetish is very difficult, and even worse being dominatrix , because the free site is, most of the time, motivating the client enough to pay (look at me here!), and for any dominatrix that is similar to begging. We also have to put ourselves in contexts, to the women of the south of the world we get a very different kind of traffic, in fact, the sites do not tell us, but they assign the traffic according to the place of origin, because they need something like extra income, they can't let bad traffic lose, because although little, it's still money. It is very common for a Latina to believe that is earning millions in a private of 1.99 / min, putting objects in her anus and doing other things that few members would ask of a camgirl from Canada, Europe, UK, Australia or the United States.
So with more reason, sites like live jasmin need to be revalued and see what tools they can create to allow models take the contro of their rooms, at least from the aggressions they receive daily. In jasmin, you cannot ban someone, that is, if there are a registered member once you disconnect and go online again (or come back from pvt) the member can go back too to the room to bother you, and guests, we just cannot silence them because jasmin it forces you to become members, so once they run out of two minutes of free view, they come back with another guest name and you can't do anything about it. In fact, there is something that seems even more serious, apparently several pages (like F4F) have an internal rating system where the model that lose points, traffic and benefits with every ban.
Psd. This reminds me, if you feel good to do charity, and know models that go well being dominant in free cam sites, let me know hahahahah.
Last edited: