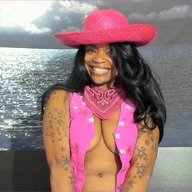 May 24, 2015
6,107
1
12,740
293
40
Twitter Username
MFC Username
Clips4Sale URL
I was banned once during pvt because I asked the model to perform as we had previously negotiated before entering the pvt session. I don't feel bad, just shocked. Never went back.

I was also banned by another model for asking if her room was non-nude. Seemed like a simple question. Her account was eventually banned...
Once the private show began, did you start adding on more things to the list of what you wanted her to do, and maybe adding in some demands (or requests) that could've made her uncomfortable? I know the "Spread your ass wider...WIDER" requests piss me off. Not that I'm accusing you of being like that.
Sometimes we'll agree to do a private show for a member, and then once we get into the session the member will catch us totally off guard by adding in more demands (stuff we didn't agree to), such as 'master/slave on a plantation' roleplay...or demanding the model calls herself names like 'nasty, fat pig'...or demanding the model spread her ass WIDER/fuck her pussy HARDER and just being cruel about it, etc. Again, this is only an example. Not accusing you of this.
Based on your post, it
sounds
like it was nothing at all like the above examples, and that you unfortunately got banned when there probably could've just been some communication of "No, I'm not comfortable doing that" and ending the session. But I don't know.