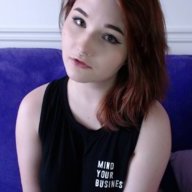 Aug 15, 2016
168
343
48
Twitter Username
MFC Username
So, hold on... Am I understanding this correctly? This guy goes on camsites (which are basically meant for paid, live and interactive porn) to... have deep, meaningful conversations with the girls?
MFC is boring because most models do exactly the same. That is what makes the models their money.
Yeah... because it's a site for paid, live and interactive porn? Not a forum?... You can have deep, meaningful and
free
conversations about literally anything you want on forums all across the Internet, so I don't understand why you're upset about not being able to have that for free on a website that's
literally
not meant for that?