So, this is a bit of an unusual one, and I have been chatting with support, but it's very slow and being annoying.
Every time a SPECIFIC model's thumbnail on the main page shows for me, it gives me a "Threat Secured" from Avast.
Support told me to try the typical things such as clear cache, disable ad blockers, disable VPN, disable other extensions.
They also told me to add "highwebmedia" to the "Exception" rule for Avast, which I also have done. It still happens. It also does it if I open CB in Firefox and this woman's room thumbnail displays.
Below is a screenshot of both the Threat AND the Exception - I added it exactly as they told me.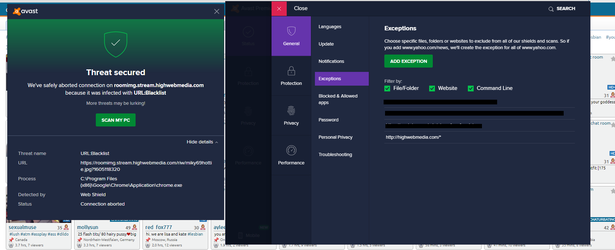 It's just weird that it's ONLY this woman room and NO ONE else that I have seen so far, and it randomly started to happen about 1 week ago.
Chrome, Avast, Windows - all up to date.
In addition to this, when I went to another models room, INSIDE her room this time, it did similar for her VIDEO (she has no images, code etc in her profile):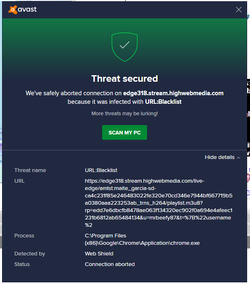 Any ideas and suggestions for what the hell to try, it's much appreciated.
As soon as the thumbnail one is detected, then AL proceeding thumbnails don't load either.
Note: I can ENTER that other woman's room perfectly fine, view her profile and video perfectly fine with NO problem/error/threat, it's JUST her thumbnail on the main page