Hi all,
the last months I made a simple but fun "Ahegao Game".
What is "ahegao"?
It's kind of a "trending facial expression" (lol), originally from hentai porn when the girl has an orgasm. You can see some real life examples for example on Reddit.
The game is a website where you can activate your webcam and connect a bluetooth-vibrator if you have one. The website can distinguish ahegao from other facial expressions and when it detects an ahegao face, it slowly increases the vibration, otherwise it decreases again.
I didn't create this with cam girls in mind, but I noticed that you're probably the perfect users as you all have a webcam and likely a compatible vibrator. I don't really know much about it, but I guess it's a good game to play on stream, too.
Here's the link:
Ahegao Game
It's a very basic website; no registration, no ads, and it works offline so the video never leaves your device.
And here's a screenshot (with a random test video which I blurred for copyright/privacy reasons):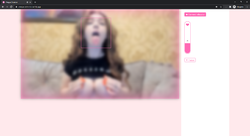 I admit that it feels a bit humiliating to make that face (at least for me), but I think that's part of the fun, at least when you're a bit submissive. It's likely not a kink for everyone.
Please leave feedback, it took quite long to make this, so I hope that many people like it and that I get suggestions on what I can change to make people like it even more.
And maybe you have an idea for other places where I (or you) can post this. This is my first post on page for camgirls, just because it's the first I found.
Have fun!