Hello! This is my very first post! So hope it helps someone!
Everyone knows that presentation is important in nearly every aspect in life, but especially in the field of cam work. Lighting, props, color values and temperatures, furnishings. You name it, it's all there to catch the eye, entice. With technology today we have all kinds of ways to stay connected, and that where I arrive at my conclusion of this long winded introduction. Is there another method to have your new to be fans follow you easily without costing you a dime? QR code graphical overlays notices on your shows! I have noticed not many using this technique when it's so simple to apply to daily self promotional use and the benefits they reap.
Here is my Custom QR below simply as reference. (Feel free to share it
):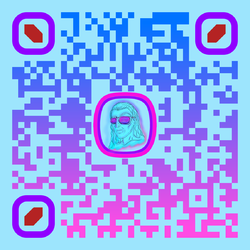 ​
WHAT ARE QR CODES AND HOW DO THEY WORK?
The What:
Simply put, QR codes are barcode like identifiers that are unique digital blot patterns which in turn are read by smart devices like your smartphone.
The How:
Most smartphones these days come with a preinstalled QR code reader build into your camera functions. These blot patters in simple terms generate a URL code where your visitors can directly land at. Be it your cam profile, your Instagram, your Twitter. Hell, even your cam fan club signup link! You get the idea.
WHY QR CODES?
QR codes are common place these days, though many small businesses miss out on the shear convenience of their use because of their inherently complex appearance. Point and shoot, and it's all at your fingertips and the extra plus, they make your look technologically savvy!
Anatomy of a QR Code, a quick primer: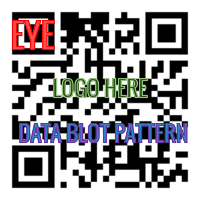 *NOTE: This standard QR lacks a logo in the center. Very basic and share the following 3 details: Data blot, Logo and Eye. Don't let those terms confuse you. All you need to know it you can easily customize them to your liking visually.
WHY CUSTOM CODES?
Here below is the difference between standard, out of the box QR code versus a Custom code with logo, custom colors and shading. In a quick glance which one catches YOUR eye? The custom one at the bottom, riiiiiiight?! BINGO!
With the custom one, I added a multiple custom colors that fit my rooms theme, changed the "eye" design (the boxes you see in the pattern) and my logo.
You tell me. At one glance, one looks like a product tag from something you buy online, very bland, robotic, and not very sexy. While the custom one has way more visual appeal!
PIMP YOUR QR CODE!
Time to get sexy with code, er not code! It's easy!:
Enter Content: Enter your website link here to generate your pattern.
Set Colors: Customize all the colors of your QR code, add a Gradient for more shine!
Add Logo Image: Add a logo to the center of your QR code. Use from the preset library or upload your own custom image.
Customize Design: Change the aesthetic details of your QR's Data Blot and Eye design.
With just entering a few fields you can customize the color, data blot design, and eye design. Play with each field and find what looks best for you. Then press the green "Create QR Code" button to generate a preview image. If you like it then press the blue "Download PNG" Button next to it, a popup will appear for your free code to download, give it a second and the download will complete and you are set!
COOL CUSTOM QR CODES WITH COLORS! WHAT ABOUT CUSTOM LOGOS???
You can use ANY digital image as a custom logo, you DON'T have to be an artist or graphic designer (though it helps! Shout out to my Artist fam!) you do need to follow some criteria for a logo to be effective.
What can you use:
While QR Monkey has some already available icons for your codes for your social media accounts (twitter, Instagram, Youtube, etc… ) you can also use any image you own rights to (a pic of yourself, your cat, whatever, so long it's your intellectual property)
Simple editing:
LunaPic Free Online Image editor:
Free and Easy to use online image effects. Try the effect.
OIE Online Image Editor:
Both are simple to use, but I prefer LunaPic for color reduction, filters and other quick stuff.
LunaPic: Use lunapic to upload your image to resize, and frames, filters and more! Suggested you play with the filter section here, especially the Two Tone color, Neon, Retro Vintage and the Color Tone filters to reduce your image to less colors for quick eye recognition for visual appeal. Below is a full color picture (details too fine to be used as a recognizable icon, but just used as illustration of our tutorial) and the same picture with colors reduced for eye appeal, you decide which you like best:
I introduce to you… SPACE FOOD!: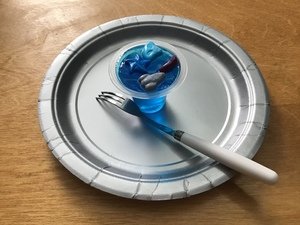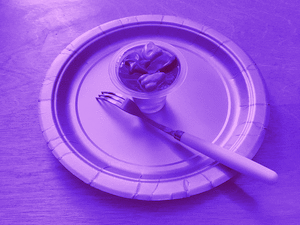 And it's sequel, SPACE FOOD PLUS!: (Color makes all the difference!)
Image size, preferably .JPG format. 800x800 pixels works well for this application. Color images should be used. But what if you don't know what size or color or format my image is in? No stress, Just convert the image you want to use with a few simple clicks and you are ready to use your image as a custom logo.​
THE ART OF FINISHED LOOKING LOGOS WITH COLOR SIMPLIFICATION AND FILTERS:
Asymmetrical logos are the norm in the branding industry today. What looks best is an icon that has minimalistic colors for quick recognition, now I won't go into branding and brand recognition, that would take forever, but stay creative, but here are some hints, think 3 to 6 colors and think of something as a simple symbol that represents your on-cam persona and use that to create a unique but standout logo that fits you personally.
What to avoid in logos:
Lettering or fine symbols meant to be read (you won't be able to see them because of their size reduction).
Overly complicated designed logos (lots of details and colors, I am guilty of that one, sue Sensei!)
Black and white logos with black and white data patterns (they tend to get lost in your data blot code patter, so make sure your logo is a different color than the data blot pattern)
STAY CREATIVE! - LAST CREATIVE IDEAS:
Create a folder on your computer and save all your Social Media Assets in one place, all organized so you can find it all in one place to reuse as you wish. Reusing resources are a great way to save time and money, and what better than something you are proud of showing off that you made your very self? Here is some ideas of what you can do with your tech-calling card: Improvise and be creative!
Print out cards/stickers for super fans!
Use them in your profiles and for your social media.
Use them during your cam shows as a notice that occasionally pops up!: "Like what you see? follow me!"
Use them as overlays images on an animated GIF banner for your profile and more!:
​
Reuses your Resources! Use your logo other places, not just your QR codes! Also remember! You can always make new codes with your existing color themes! All you have to do is make sure you change the "Enter Content" field to another website, push "generate" and you have another unique tag with the same theme color and logo to use as you wish! Make different ones for different uses. Maybe you have a non-nude model profile you want to show off? Make a unique code for JUST that profile with unique colors and keep your cam work and model work separate!
TRUST ME! YOU CAN DO IT!
If you don't consider yourself computer savvy, don't worry! All you need is 10 – 15 minutes tops and you will have a great looking Logo and unique QR code! If this helped anyone, please leave a comment below and I may make some other tutorials of designer stuffs I know! J Thank you!
Rubino Troubled out! Stay out of trouble, that's my job!
Resources:
Free customizable QR codes with logos:
Create custom QR Codes with Logo, Color and Design for free. This QR Code Maker offers free vector formats for best print quality.
www.qrcode-monkey.com
Free Online Image Editors:
LunaPic:
Free and Easy to use online image effects. Try the effect.
OIE:
Free and Easy to use online image effects. Try the effect.
Follow me for more!
instagram.com/rubinotroubled
twitter.com/RubinoTroubled
chaturbate.com/troubledtwo