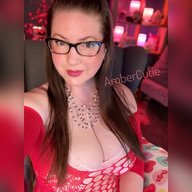 ACF Owner & Admin. (I don't work for CB.)
Staff member
Cam Model
Mar 1, 2010
29,333
9
122,739
0
Twitter Username
MFC Username
I think I say this every year when DecAmber rolls around, but holywhoa the year went by fast. It was a strange year, I'm actually really glad that the last month of it is basically here.
Here's the lowdown on most of DecAmber 2018's happenings! I'm leaving the token amount hidden on most of this stuff because some of ya goobers forget to wait until AFTER the month has begun to try to get stuff.

Just as I did last year, I am going to push hard at the beginning of the month (health permitting, of course) and put in a lot more hours than in the 2nd half of the month. After that I'll be off Wednesdays and Sundays with an extended break for Xmas. I think this works out well since we all get busier toward the actual holiday, and it seems from mega months past that the first week or two we all have more energy to whoop it up!
That brings me to...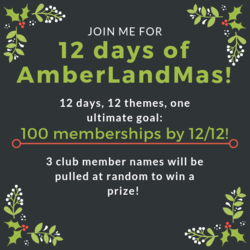 I'll be on cam all of the first 12 days of the month
(again, health permitting... some difficulties have come up in the past few days, ugh!)
and this special club will be rolling through the whole thing! The ultimate goal is to get 100 memberships in those 12 days (1 person tipping for 5 memberships counts as 5, and also gives them a greater chance at winning the prize.)
I'll utilize the new raffle feature on MFC Share Clubs and pull 3 winners after the 12 days are over. Winners will receive a package with lots of holiday themed goodies as well as some of my home made CRACK which we'll make on cam together during the 12 days of AmberLandMas.
There will possibly be other ways to win some of my CRACK so keep an eye out for details on baking day.
Here's info about daily high tippers, there's 2 different ways to participate based on if I get on cam that day or if I'm off:
This will be the first mega month in ages we don't have stuff up on the wall, instead we have DANGLERS!!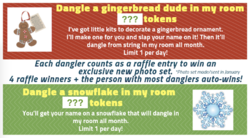 Another DecAmber tradition is to do a charity event! I've got 2 new (to AmberLand) charities to donate to this year, and you can help! This will be an "Item" on my Share page, which you can purchase multiple times in order to beef up your charity contribution. I match the $0.05 token earning from MFC and donate a total of $0.10 for every token earned on this item's sales! This way nobody feels like they're wasting a cut to MFC
(even though without MFC as a platform I would never be able to raise as much money for charity donations as I have in the past, so I'm thankful to be able to utilize it). If you'd prefer not to give MFC nor myself any benefit to your contributions, there will be direct links on the item page to donate to the charity without going through AmberLand.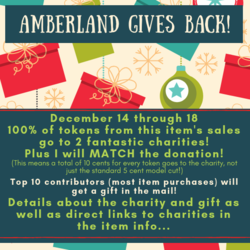 Check my share link for it (I will post in a reply here once it's up on Dec 14) to check out the prizes and the charities' direct links and info.
2 new vids will be up starting Saturday morning, here's details!
(reminder: the "7 xmas angels" will get special access/discount to "This Christmas" so make sure to go to to
https://share.myfreecams.com/m/htsq2z65
grab it!
I'll reply here tomorrow after all the stuffs are up on Share to drop links for them!
I'm really looking forward to a fun holiday month with everyone. I promise not to overdo it and will let y'all know if I need a break.
Keep an eye on Snapchat and Twitter for my schedule updates!
Last edited: