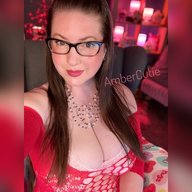 ACF Owner & Admin. (I don't work for CB.)
Staff member
Cam Model
Mar 1, 2010
29,961
9
124,361
0
Twitter Username
MFC Username
So it's going to be MUCH more lowkey of a DecAmber than usual, but I love using the name for the month, so we'll make it at least a little special! I'm not going to push myself with crazy hours, or push my members for a crazy rank goal, but do have a few fun extras that we'll enjoy in order to make it more than just any other normal month on MFC.

Here are the infographics that will be up on my profile as of Sunday (the items/clubs/video are not up on Share yet, and a couple slight details might change):





I plan to donate to Child's Play and Seattle Humane this year.






I'll also have an offline special on Sunday since I will not be on cam for the kickoff of the month: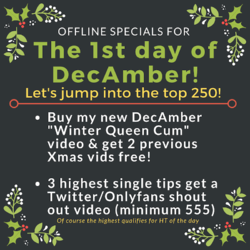 The video for the month is a sort of costume cum, even though "Winter Queen" is only so much of a costume... more of a fancy fun dress and pretty crown that I masturbate while wearing.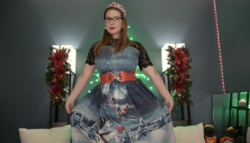 I'll get on cam Monday Dec 2 to kick off the month. I am to be on a few Wednesdays for #WubWubWednesday dancing, which will be an hour of wiggles with a token goal to hit by the end. Maybe a #Caturday or two. Probably bake some Gingerbread cookies to auction/raffle/HT off early in the month so they (and the greeting cards) can be mailed out before the hectic Holiday rush at the post office. I'll be taking extra days off for Xmas and off on New Years Eve, as well as for sure every Sunday.
So there are the (most likely) details to get ya a little bit pumped up!