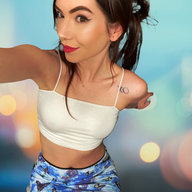 Aug 11, 2017
2,367
9,036
163
I'm really interested in this industry, from all sides (perspectives of models, member, sites). It's been a fun but also fascinating experience. A lot more to it than I thought.
Just going to say this, it can be somewhat to very insulting when people outside the industry treat sex workers and the adult industry as a whole like lab specimens under a microscope. As if we're some interesting anomaly of the human species to be carefully observed and studied.
That's the vibe I get from your posts, and more than likely the reason why you haven't been getting positive feedback. Also, because every single post you've made on this forum is about models meeting up with whales. It's such a weird thing to have a hang up about, imo.
Idk, while I get how the adult industry has some sort of fascinating allure to some people that aren't and never will be in it, I'd have so much more respect for those people if instead of just bombarding us with questions about the things that interest them they'd instead ask stuff like "Is there any way that I, as a non-industry worker, can help out during this time where sex workers/adult industry workers are facing more political backlash than ever before?". Because let's be real, most dudes who are "really interested" in the industry have no actual interest in our well-being as actual human beings and hearing about the shitty political side of sex work doesn't get their gears going like hearing about potential meetups between a model and a member.