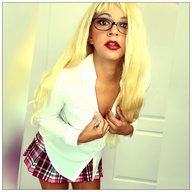 Aug 12, 2021
2
0
0
Twitter Username
I have made it past the 2 week newbie promo on StripChat, where I didn't really see much good effect from this as I never got viewers as I often wasn't showing up online on the new models list, and I also had a few technical difficulties the first week which hindered my growth. Now my views have really slumped, there have been a couple of good days but now mostly very slow. I feel I should have gotten a better start but so many things went wrong and now I can't seem to get caught up to a decent Strip score and am starting to feel like giving up, but I really want to make this work.

I want to stay online long enough so I can hope to catch new viewers, but by staying online for a long time without getting tips it's killing my strip score. I also want to adhere to the schedule I've made, but if it's killing my strip score, should I so as such? I feel like I'm in a catch 22.

What do I do? Stay on longer and risk killing my score with the hopes that I will be seen in the queue, or log off and try to attract viewers elsewhere and hope they come to my next show? I don't have a large following as I'm new everywhere. TIA for your advice. Should I stay on for 30 minutes, if it's dead take a break and come back in so many minutes? I'm really not sure what to do and need advice from some experienced cam girls please!