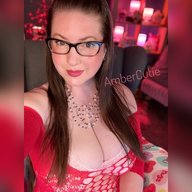 ACF Owner & Admin. (I don't work for CB.)
Staff member
Cam Model
Mar 1, 2010
30,308
9
125,002
0
Twitter Username
MFC Username
Replying to and posting new threads​
How do I post?
Choose a section and click "Post New Thread" at the top to create a new topic/thread. To reply to an already-existing thread, simply type in the box at the bottom of the page and hit Post Reply. It's recommended to search for topics before creating a new one, though, since duplicate posts are sometimes ignored.

How do I quote other peoples' posts?

There are many easy ways to quote! You'll notice both a quote and a reply button at the bottom of every post.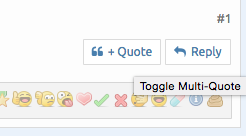 If you hit reply, it'll automatically quote the post for you and take you to the quick reply box at the bottom of the page. If you click the quote button, the quote will be added to a list for you and saved for later! Then when you're ready to reply, you can "insert quotes" in the post reply box and it will add all the quotes you saved.

You can also click and drag to select text in any post and the option to +quote or reply will appear as a small button under the selected text. You can then directly reply with the quote, or "insert quotes" as described above.


How do I mention someone without quoting them?
Simply type @username (the name should start to autocomplete in a handy little dropdown. So if you'd like to draw my attention to a post, you'd type
@AmberCutie
and I'll get an alert!
*Both quotes and mentions will create an alert for the user. You don't have to use both in the same post in order to create an alert.
How do I edit or delete my post?

You only have 15 minutes to edit or delete your post after you hit SUBMIT. There are little buttons on the bottom right side of the post to either edit or delete (the x button). Once 15 minutes has passed, your post is there forever. Once someone has read your post even before that 15 minutes is up, you'll only be able to edit, not delete. I will only edit or delete posts for you in extreme situations, so please think and utilize the preview button before you SUBMIT a post.


How do I embed a video?

You can simply try pasting any HTTPS video URL into your post and if it's a supported site, it'll embed automatically for you! Please note that any HTTP URLs (non-SSL) will not embed properly as browsers will not load HTTP content when on a HTTPS site.

If you preview your post before submitting and it shows up as a white/blank space, just add the link to the media in the post instead of embedding it.

How do I use images in my post?

You can either upload a file, submit an image URL, or embed an image from one of your media albums.

To upload a file, click the "Upload a File" button under your post, then upload from your computer. You can then choose to place the image in your post as a full sized image or as a thumbnail.

To submit an image URL, click the little image button at the top of the post and paste the image URL there. The image will automatically be placed in the post.

To insert an image from one of your media albums, click the little camera icon at the top of the post. Your media will then be displayed below the text box. Drag your chosen images from there into your post. Woo!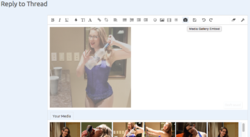 Media Album?
You'll notice there's a Media tab at the top of the forum! You can upload personal images to show off to other ACFers here

You'll want to create a new album in that dropdown box (or you can add to someone else's album that shows up in the dropdown if applicable). You can adjust the settings on your album to be private or displayed to everyone/members only/followers only and also you may allow others to add to your album or set it so only you can add to it. Then simply upload from your computer.

Spoiler Tags? What's that?

Theres a detailed post about it Here! Proper use of spoiler tags.

Always remember...



...THE PREVIEW BUTTON IS YOUR FRIEND!
Last edited: