splitcam.com
Industry Representative
Jul 12, 2020
114
70
31
Twitter Username
Good day to webcam models and studios!
I represent a team of developers working on the Splitcam software project.
First of all I would like to say thank you to all of our loyal users for being with us for so many years. Now I'm proud to present you a totally new version of SplitCam. It has been completely redesigned and we are still working on it very intensively. The new version has a completely different modern design with support of HiDPI monitors and a very friendly user interface which I hope will be welcomed by the users. We also use modern technologies in acquiring and processing media data which leads to better quality and is less processor hungry. All in all we've come out with a great product which I hope you will like and find it useful in your everyday work.
Here's an incomplete list of features you will find in the new version:
- The renewed intuitive design makes using the program much easier;
- You can stream live to multiple services (MFC, Chaturbate, StripChat, Bonga, etc.) at the same time with lowest possible system load;
- You can lower the system load even more when using our RESTREAM option which can optionally be enabled in SplitCam. It allows for streaming to multiple services using only a single connection with one of our restreaming servers located in US and Europe;
- Skin smoothing filter will do its best to make you even more beautiful;
- We've collaborated with Lovense to natively support their devices in SplitCam by installing a specially designed plugin;
- Save a recorded video stream to hard drive during a live session or offline for later use;
- SplitCam automatically detects your computer configuration and adapts to the hardware you are using;
- We've added a tip notifier: you can set it up to show an animation every time your get tipped by your visitors;
- In addition to our virtual video driver we now offer a virtual audio input driver so that you can mix your mic and other audio sources and use it as the audio input in online streaming streaming services when needed;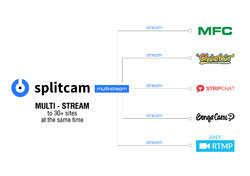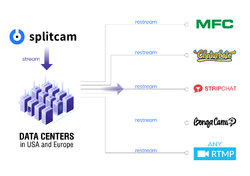 You can find video tutorials by following this link:
https://splitcam.com/help/video-tutorials
.
SplitCam is available free for download and use at
https://splitcam.com/download/
Please leave your comments and suggestions.
Thank You
Last edited: