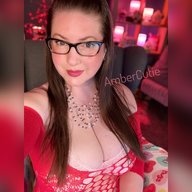 ACF Owner & Admin. (I don't work for CB.)
Staff member
Cam Model
Mar 1, 2010
26,536
1
113,209
0
Twitter Username
MFC Username
When Jawbs and I first got our Virtual Reality gaming systems, I couldn't stop talking about it to my regulars in my MFC chat. It is beyond mindblowing how immersive it can be to put on a headset and be IN a video game, using hand-held controllers as hands to grab things and fight enemies.
We have both the
Oculus Rift
and the
HTC Vive
. We had to upgrade our gaming PC to run it, so before anyone jumps into buying one make sure to read the advanced specs required. So far, the Vive wins my affection, hands down. It has a much larger library of games available both for free and for purchase, whereas the Rift has a lot of "experiences" available, in that they aren't playable, just... experienceable. Haha. And also the Vive has the hand-held controllers and room-scale gaming available already. It tracks you in your whole game space, your movements, your hand gestures, whether you're standing or sitting. This makes gaming with the Vive incredibly immersive and fun. The Rift currently does not follow you more than a few steps around your standing space, and has only a remote control or console controller to play with.
Some of the games we have enjoyed the most are:
I say "of course" for Fantastic Contraption, because the AmberLanders got a lot of experience with this game when I broadcasted myself playing in Mixed Reality for the first time on MFC. Mixed reality meaning the video the viewers see shows me INSIDE of the game, while I am wearing the Vive headset PLAYING the game. It's a total trip, as you may assume.
Since MyFreeCams tweeted about it (whoa!) the night it was happening, news of it spread beyond my immediate AmberLand community and even got the attention of Fantastic Contraption creator
Colin Northway
. Double-whoa!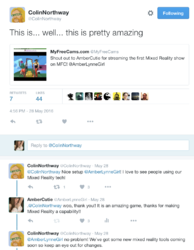 Here is a snippet of that night's show recording. It obviously was more interesting to be there live since you can't see how involved my room chat was in helping me solve the puzzles. (I could see my chat inside the game with some code monkey tweaking of an IRC channel, which Colin said they were going to make easier in the near future, yay!)
I had a 2nd night of MFC Mixed Reality last Friday, in which we actually did some naughty dildo play toward the end, but that video clip will be in my
VIP
section
here
shortly.
I hope to do another of these shows within the next couple of months once some of the improvements are in place. I think we'll start over at the beginning, though, as the puzzles were starting to get so difficult it was hard to pay attention to the room AND beat the levels.