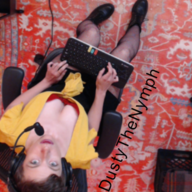 Jun 22, 2021
122
263
16
Streamate Username
[Since the other posts with ASMR in the title are from 2018, 2016, and 2013 respectively, I thought this might warrant a new thread.]
Basic Definition stuff, Background:
ASMR = whisper tingles, "Autonomic Sensory Meridian Response" - a deeply intimate feeling like being lightly brushed or cared for that many find pleasant. While many people do not feel sexual responses to it, others do, still more folks don't get the tingles at all... For reference, at the other end of the spectrum of response is nails on chalk board. BUT back to the pleasant feelings associated with being tended to as with hair dressing, or the pleasant nature of someone whispering your name, or gently touching your hand.

FYI, The use of ASMR "triggers" (like whispering or mouth sounds) in sex work remains controversial to folks who don't want the two worlds to mix. As in, someone who doesn't talk about sex in daily life wouldn't want to be open as an ASMR fan if people generally think it means licking microphones as a masturbatory aid. (Re: Currently on Twitch there's a "meta" streaming trend of licking the microphone, on channels that specialize in sexy ASMR.)
However, it's hot to a lot of people. *Purrrr!* As early as 2013 there was (according to
this ACF post
) a category on Clips4Sale of ASMR. You probably already know this. Maybe you are an ASMR pro!
My experience/issue:
I use a big, obvious microphone headset when streaming, and prior to needing (loud) a/c this summer, I was using a more sensitive microphone on an extended arm and big headphones. Even now, the visible mic in itself indicates I should be more familiar with ASMR expectations than I am. For most of the folks in whom I trigger ASMR it's simply from my voice and maybe my open discussions about feeling safe to be open about sexuality - and not from doing special mouth sounds, etc. FWIW I'm on SM.
To me, ASMR requests seemslike yet another area of internet-mediated sex work in which communication is vital to the participant's enjoyment. Just like with any other kink, everyone is different in exactly what they like - even in a given "keyword"!
TL;DR:

Actual question is, what are your experiences and what expectations do members have when they are interested in an ASMR themed private session?