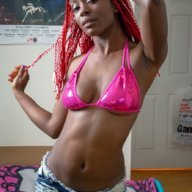 Oct 16, 2014
194
335
93
35
Twitter Username
Tumblr Username
Streamate Username
Clips4Sale URL
lately my chat has had some very annoying guest chat folks... and a weird person I suspect is stalking from a gaming community I'm a part of. Since the only way to block the guest is going into tipping chat (which mimics my free cams anyway) I was wondering what were some of your thoughts on other services. I'm considering transitioning back to mfc (if I can get my account back. my old studio owned it and I didn't even realize, guess that's why I haven't been paid by them for the longest while, if any of you have any experience with this please let me know!) or using niteflirt since it bypasses the free chat altogether and in general that's the area that stresses me out the most. I prefer dealing with ppl one on one anyway.

I kinda dislike the idea of doing a show for a ton of ppl that one person paid for but it seems like that's the direction most of these sites are going in. I had streamate but deactivated it to cut the last ties to an ex. I'd rather not have him continue to make revenue off of me especially after some of the other shady crap he's done.

Does mfc penalize you for showing an additional monitor? I got an anti nudity demerit for playing kof on cams and I was wondering if this is just their strange rule.

Thanks a billion!