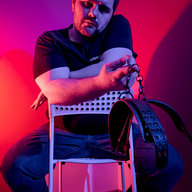 Jul 9, 2017
2,559
1
5,155
133
Twitter Username
MFC Username
Streamate Username
Chaturbate Username
Been planning on changing up my cam streams, I wanted to do something that's a more interactive (and hopefully fun for everyone in the chat). Not everyone has tokens to spend every day so some days are going to be slower than others, currently when there's no one tipping there's not much of anything happening, it's boring for me, and im sure it's boring for everyone else in the room. So the change I am thinking of implementing is doing more streams where we (as a room) create things, 3d models, artworks, music etc. and still have the sexy stuff happen during tips and goal shows. I also like that it's something that everyone can be involved in whether they have tokens or not.

To me it seems like a pretty solid idea, I personally would rather be in a room that's interactive / acctually doing something than in a room where theres no one talking and nothing happening until something get's tipped for. However, speaking to a model friend tonight, she thought it's going to be a bad idea because it's not like a sexy activity, and I get the point that shes making but I think we all know a lot of members on cam sites dont just login for sexy times, it's also for company, entertainment and to kill boredom / time.

So I wanted to open up a discussion with you guys (members and models) on what you think of the idea.

FYI: I am far from a pro or even competent at 3d or music production, but for me that's part of the fun, and where I imagine a lot of the entertainment would come from for everyone in the chat.