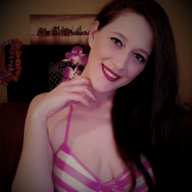 May 16, 2020
16
1
4
16
Twitter Username
Chaturbate Username
Hi
@punker barbie
I hope I am posting this in the right place. About a year and half ago, you helped me with a massive problem and I still owe you a great debt of gratitude.
Is there any way you could please help me again? I have sent mails to support@chaturbate twice now, but they simply ignore it.
Me and a number of my friends are all experiencing the same problem with our streams. Our streams will run perfectly and then just crash. This has been happening for about 2 weeks now.
These crashes occur anything from 8 minutes to 30 minutes into stream. Then we have to change the stream key on OBS and try again. When it comes up, it will crash again in a few minutes.
At first, we thought it was OBS, but after numerous tweaks on OBS, we used different streamers (Camtasia etc.) and still experienced it. Then we tried streaming from the in-browser method, and it still does this. (We tried via Chrome, Lovense and Firefox).
Me and my direct group of friends are scattered around South Africa, far from one another. It does not only affect South African cams though, because we know at least 4 USA models that are experiencing the same issue.
Please any help or guidance you can give, will be greatly appreciated! This is destroying everything we have been building up since we started doing shows on Chaturbate.