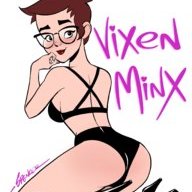 Jul 23, 2018
5
8
1
Twitter Username
MFC Username
Hi everyone,

This is my first thread on ACF - please be kind & I hope I have done this right! I've been camming for almost 3 months now, and today I really felt like it went well. I made the most tokens I have so far, with a new high tipper (when I didn't think the previous would be beaten for ages!). I was lucky to have a great tipper right from the start who was very quiet and ninja tipped the whole time and took me private before he left.

I was painting, dancing around, hitting countdowns and singing along to music all stream and it was just so much fun. I feel like up until now, I have been trying to emulate other cam models in their demeanour and it just doesn't fit right. I finished cam feeling super happy, really excited and just like myself. I've started painting some watercolour pictures that I will be raffling off soon for Christmas (considering its already so close to Halloween with postage and ticket sale time taken into consideration).

I feel like I've started to hit my stride in being myself on cam, and I feel like even if I'm down just being able to be myself will perk me up a bit. It was nice that I had majority brilliant members in my room that told me they were singing along with me, that I should sing more, encouraging my painting and complimenting me, even with small tips alongside (any amount is appreciated!) One MFC friend even tipped me a handful of tokens while I was in the true private saying he hoped I was enjoying myself.

Just a reminder to try and be yourself on cam, even if it's a 'made up' personality. So long as it is a person that you are happy to be for that time, stay true to yourself! Try to change things up a bit if you are feeling bored, move some furniture around, change some of the decorations, whatever will help you freshen up and feel motivated and excited again.

Thanks, much love and many tips!
Vixen.